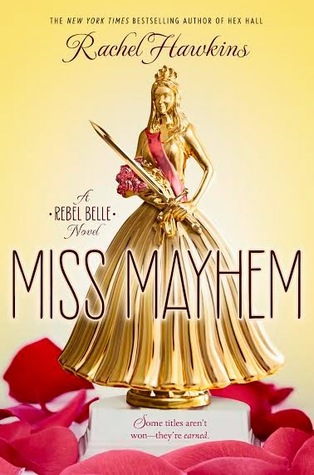 Miss Mayhem by Rachel Hawkins
My rating: 3 of 5 stars
Received: Borrowed
Publication Date: April 7th 2015
Publisher: Putnam Juvenile
Point of View: 1st Person & Feminine
Recommended Age: 12+
Genres & Themes: Young Adult, Supernatural, Contemporary, High School, Superpowers, Romance
BLURB:
Life is almost back to normal for Harper Price. The Ephors have been silent after their deadly attack at Cotillion months ago, and best friend Bee has returned after a mysterious disappearance. Now Harper can return her focus to the important things in life: school, canoodling with David, her nemesis-turned-ward-slash-boyfie, and even competing in the Miss Pine Grove pageant.
Unfortunately, supernatural chores are never done. The Ephors have decided they'd rather train David than kill him. The catch: Harper has to come along for the ride, but she can't stay David's Paladin unless she undergoes an ancient trial that will either kill her . . . or connect her to David for life.
REVIEW:
First book: Rebel Belle
Book one has a fun Harper, witty and ''laugh out loud-worthy'' dialogs, an entertaining storyline and a very fast pacing, while Miss Mayhem depicts a slightly out-of-control Harper, pleasant dialogs, a plot that is closer to the contemporary world than the supernatural one and a pacing that is relatively fast, too.
Miss Mayhem doesn't live up to its first book, but is a sequel worth reading, for Harper's narration will never bore you and the characters around her embellish the story with their unidealized and engaging personality.