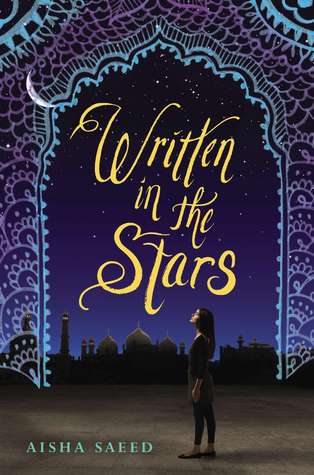 Written in the Stars by Aisha Saeed
My rating: 3 of 5 stars
Received: Bought
Publication Date: March 24th 2015
Publisher: Nancy Paulsen Books
Point of View: 1st Person & Feminine
Recommended Age: 12+
Genres & Themes: Young Adult, Contemporary, Romance, Cultural
BLURB:
This heart-wrenching novel explores what it is like to be thrust into an unwanted marriage. Has Naila's fate been written in the stars? Or can she still make her own destiny?
Naila's conservative immigrant parents have always said the same thing: She may choose what to study, how to wear her hair, and what to be when she grows up—but they will choose her husband. Following their cultural tradition, they will plan an arranged marriage for her. And until then, dating—even friendship with a boy—is forbidden. When Naila breaks their rule by falling in love with Saif, her parents are livid. Convinced she has forgotten who she truly is, they travel to Pakistan to visit relatives and explore their roots. But Naila's vacation turns into a nightmare when she learns that plans have changed—her parents have found her a husband and they want her to marry him, now! Despite her greatest efforts, Naila is aghast to find herself cut off from everything and everyone she once knew. Her only hope of escape is Saif . . . if he can find her before it's too late.
REVIEW:

''You can choose what you want to do when you grow up, the types of shoes you want to buy, how long you want your hair to be. But your husband, that's different. We choose your husband for you. You understand that, right?''

Remember the movie Bend It Like Beckham? How Jess' parents were all like:
And it was awful. Every time I was watching the movie – and I did so at least three times in total because movie with valuable themes equals Ethics class pick –, I felt frustrated and wanted to shake those parents and make them SEE.
Well Jess' parents are angels compared to Naila's. At first, they seemed only concerned and lacking trust in their daughter but, as the story advanced, I realized that it wasn't that… They think they know better for her. They think that what they're doing is RIGHT. And, finally, (the one I hate most) they think that she will thank them for what they're doing to her, later on. And what are they doing to her?
Not only obliging her to marry someone, but Naila's actually being forced to. If she's not cooperating, then she's being drugged. She doesn't want to sign the marriage papers? We'll help her hand to sign. Doesn't want to eat? We'll open her mouth and force-feed her.
It's awful. But what's even more shocking and infuriating is that this is realistic fiction. What this book contains, it could be happening to hundreds of girls at this very moment.
It's not a book that will appear light and entertaining to you, but it's engaging nonetheless. The chapters are extremely short – barely two, three pages each – and they read fast, which makes of this a book that can be read within a single day. It is repetitive, I admit, since the story is too simple for a three hundred-page book, but, still, it will not stultify you. What is unfortunate about its brief chapters, however, is that plenty of scenes inside Written in the Stars turned out too short for our pleasure. For instance, prom was two-page long. Hm. Everything went on high-speed motion.
Naila is a great protagonist and, with her good sense, hopefulness and love toward Saif, we do not lose faith in her returning to American from Pakistan alive. There were moments when I actually thought she would commit something irreversible, harm herself in some unthinkable way from despair, but no such thing happened. Her refusing to eat was not aimed as a defying action, in my opinion, but more out of disgust from what her own family was doing to her.
I recently read my first book with an arranged marriage situation, a dystopia – 5 to 1. Nonetheless, it represents well a person's feelings when they are pushed into something they are not ready to or are entirely against. Therefore, if you enjoyed Written in the Stars or do not think that it is quite the book for you but would like to try something with similar themes, I would highly – highly – recommend 5 to 1.