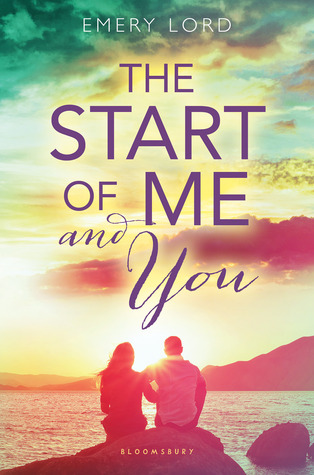 The Start of Me and You by Emery Lord
My rating: 3 of 5 stars
Received: Borrowed
Publication Date: March 31st 2015
Publisher: Bloomsbury
Point of View: 1st Person & Feminine
Recommended Age: 12+
Genres & Themes: YA, Contemporary, Romance, Friendship, Family
BLURB:
Following her pitch-perfect debut Open Road Summer, Emery Lord pens another gorgeous story of best friends, new love, & second chances.
Brimming with heartfelt relationships and authentic high-school dynamics The Start of Me and You proves that it's never too late for second chances.
It's been a year since it happened—when Paige Hancock's first boyfriend died in an accident. After shutting out the world for two years, Paige is finally ready for a second chance at high school . . . and she has a plan. First: Get her old crush, Ryan Chase, to date her—the perfect way to convince everyone she's back to normal. Next: Join a club—simple, it's high school after all. But when Ryan's sweet, nerdy cousin, Max, moves to town and recruits Paige for the Quiz Bowl team (of all things!) her perfect plan is thrown for a serious loop. Will Paige be able to face her fears and finally open herself up to the life she was meant to live?
REVIEW:
Not incredible but considerably more enjoyable than Open Road Summer.

"Okay,'' he said, leaning closer to me. ''I have a proposition for you.'' Dear God, let it be marriage, I thought.

Ah, Young Adult romance! It never ceases to make me smile. True, I find most of them YA love-themed books cheesy and predictable to an extreme point, but there's also something about them that leaves me feeling… good inside. It's lovely, it's fluffy, it's beautiful and there's a sort of innocent giddy passion coming from the protagonists that we don't necessarily see in Adult romance reads. That's why I keep reading them.
Paige hasn't had it easy; her parents divorced a couple of years ago and her boyfriend died last year. He fell and drowned… So did Paige's heart when she heard the news. It can't be helped – everyone will always connect her to her dead boyfriend, Aaron, and, while she loved him dearly, she is tired of it The Looks. But Ryan understands what she's going through and how it makes her feel to see all these people with a pitying expression on their faces. Therefore, she decided that this year will be different and quickly made a list of things to accomplish, one of them being her… dating Ryan.
But then she meets Max, with whom she starts feeling a deep and genuine connection. Except… she only befriended him in the first place so she can draw nigh to Ryan.
There's so much I predicted in this book. The author didn't even try to add a little contemporary twist. And, even when I couldn't actually properly foresee a certain scene, I still wasn't surprised when it occurred. But that's okay; it is not as if I picked this book up to be flabbergasted by turn of events. I wanted a cute story, and that's what I was delivered.
With an extra consisting of true friendship as theme: In friendship we are all debtors. We all owe each other for a thousand small kindnesses, for little moments of grace in the chaos.

How many times have we read books with characters that are always there for their best friends when need is, know them as well as they know themselves and CARE for them as they would care for their own brother and sister? Girl power, so much girl power!
What disappointed me most was seeing how it took 3/4 of the book for Paige to open up her eyes and heart and see who – between the two boys – she loves truly. And that ending… Very Hollywood movielike. Despite its negatives, The Start of Me and You has a lot going on for itself and I believe will be enjoyed by many!