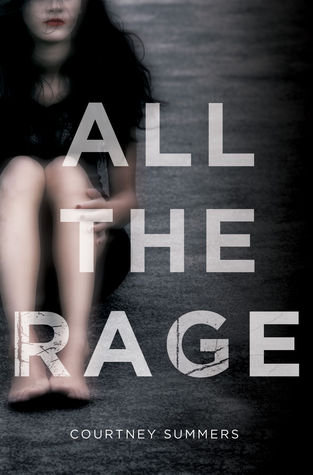 All the Rage by Courtney Summers
My rating: 5 of 5 stars
Received: NetGalley
Publication Date: April 14th 2015
Publisher: St. Martin's Griffin
Point of View: 1st Person & Feminine
Recommended Age: 14+
Genres & Themes: YA, Contemporary, Mystery, Abuse, Bullying, Romance
BLURB:
The sheriff's son, Kellan Turner, is not the golden boy everyone thinks he is, and Romy Grey knows that for a fact. Because no one wants to believe a girl from the wrong side of town, the truth about him has cost her everything—friends, family, and her community. Branded a liar and bullied relentlessly by a group of kids she used to hang out with, Romy's only refuge is the diner where she works outside of town. No one knows her name or her past there; she can finally be anonymous. But when a girl with ties to both Romy and Kellan goes missing after a party, and news of him assaulting another girl in a town close by gets out, Romy must decide whether she wants to fight or carry the burden of knowing more girls could get hurt if she doesn't speak up. Nobody believed her the first time—and they certainly won't now — but the cost of her silence might be more than she can bear.
With a shocking conclusion and writing that will absolutely knock you out, All the Rage examines the shame and silence inflicted upon young women after an act of sexual violence, forcing us to ask ourselves: In a culture that refuses to protect its young girls, how can they survive?
REVIEW:
I just finished this and, oh my book, I need to breathe, I need to breathe, I need to breathe…

he covers her mouth.
That's how you get a girl to stop crying; you cover her mouth until the sound dies against your palm.
Everything this girl has been through – what she's going through, throughout the story – scared me. I know how it can feel like for someone to be bullied in school and picked at, having lived it myself when I was in middle school, but middle school and high school are two different worlds. In high school, people are meaner, cleverer in their scheming and they KNOW where to hurt and at what moment. The perfect moment when the hit will have triple impact.
But Romy… she's been raped. It was obvious in the story that she stills had scars from that awful night – with reason, I don't think you can ever forget something like that – but, you will see, she's still pretty damn strong. I would even say that she's stronger than I am, mentally speaking, since I don't think I could have survived something like that and, on top of that, being treated like trash by my classmates.
It also scared me to see how a POLICE OFFICER can be so inconsiderate and act in a way that would make you ask yourself who is the adult between Romy and that aforementioned officer. I hated him. I'm one hundred percent sure you'll hate him too. But that's okay; after all, that was the author's purpose – to make us hate him – for sure. Hell though, so many things to rage over in this book. So much unfairness.
This was my first book by Courtney Summers and I must confess I never would have picked it up if it weren't for the beautiful reviews on Goodreads praising this novel like crazy and making me feel like not reading it would be a sin. It isn't… but my god is it a book I wish to shove at everyone!
There's also a love story – yay for diversity! – and Leon will grow on you. I wasn't sure what to think of him at first ''glance'', since Romy didn't either (that's how related to the character I was), but he treated her like she was the only girl in the world for him, so I couldn't help but succumb to his charms, too…
It makes me so genuinely happy to know that I've discovered a new gem of an author. Be sure that this will not be my last read by Miss Summers!