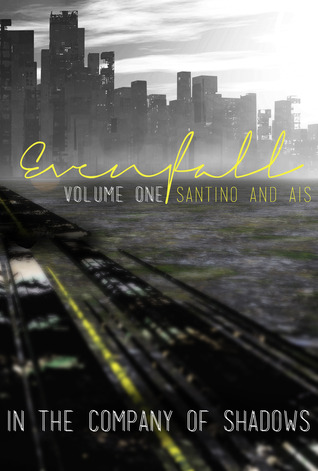 Evenfall: Volume 1: Director's Cut by Santino Hassell
My rating: 4.5 of 5 stars
Received: Free
Publication Date: June 2nd 2014
Publisher: /
Point of View: 3rd Person & Masculine
Recommended Age: 16+
Genres & Themes: M/M romance, Dystopia, Military, Post-War, Psychological
BLURB:
Available at: www.inthecompanyofshadows.com
In a post-apocalyptic future, the Agency works behind the scenes to take down opposition groups that threaten the current government. Their goals justify all means, even when it comes to their own agents.
Sin is the Agency's most efficient killer. His fighting skills and talent at assassination have led to him being described as a living weapon. However, he is also known to go off on unauthorized killing sprees, and his assigned partners have all wound up dead.
Boyd is not afraid to die. When his mother, a high-ranking Agency official, volunteers him to be Sin's newest partner, he does not refuse. In fact, his life has been such an endless cycle of apathy and despair that he'd welcome death.
In the newly revised Director's Cut of Evenfall, the first volume follows these two cast-offs as they go from strangers to partners who can only rely on each other while avoiding death, imprisonment, and dehumanization by the Agency that employs them.
120,000 words.
Warnings: Explicit violence, physical and psychological abuse.
Note: This is the first of the two volumes comprising Evenfall, the first book in the ICoS series.
REVIEW:
''You have the strongest sweet tooth of anyone I've ever met. Only you would even consider dessert after a large shake like that.''
Sin drank some more. ''Sugar deprivation as a child.''
''You're going to make yourself diabetic.''
That was met with a scoff. ''Like I'll live long enough to suffer the effects.''

You better stay alive, Sin. I didn't get attached to your cold-blooded yet endearingly broken self for you to abandon me… ever. You can keep joking around – it gives you charm – but just know that you made this book for me, you and Boyd, and that I've enjoyed you and plan to enjoy you some more. Yes, I am officially addicted to this series.
We are in the future, after WWIII, and danger roams the night as it never did before. Secret organizations were created to assure the security of the government and The Agency is one of them. Their best agent? Sin. They keep him in captivity, that's how threatening he is. What he does, no other human can perform. It is almost as if he possesses supernatural abilities. I've never met such a skilful fighter in any of my reads. And then there's Boyd, a boy incomparable to his newly made partner, Sin. Boyd hasn't been trained to kill, where he excels isn't in wrestling but in thinking. He is the mind of the operation where Sin is the one executing it. Yet, together, they make an unbeatable team. But what happens when emotions interfere…? Sin is seen as a monster, could he ever care, truly? And Boyd has been suppressing his feelings for a long time, what if his shell splinters?
''What's your problem?''
''Danielle. I'm tired of people making such automatic assumptions that I'm gay just because of how I look. It's a stereotype.''
''Hmm.'' Sin grasped Boyd's chin, moving closer as if to examine his face. His fingertips slid along Boyd's skin, brushing his neck before falling away. The feel of that gentle touch was so unexpected that Boyd almost stumbled. He barely heard Sin's comment.
''Maybe it's the hair.''

I'm more than impressed with how the story unfolded itself. I certainly did not expect it to be so… pleasant to read. For sure, there were plenty of killings and a good dose of manipulation, bullying and negativity but, in this case, it added atmosphere – the right kind to this type of story – and never was it overwhelming. Just the right amount. But, of course, what I was focused on was our famous team, Sin and Boyd. I followed their missions like a crazy watcher. I wanted to know everything about them, by heart. And witness all of their interactions… This is when I realized how talented an author must be to make me care for, not one, but two! characters so damn much.
The weaknesses that I found weren't something that bothered my reading experience but they still were there and I could feel them. First, the world-building. The idea in general was GREAT, and I mean it, but I had trouble visualizing the exterior world. Every time they went to some restaurant, random place, new city, I could never really see where they stood. While there was sensory detail throughout the book, it mostly was aimed on the psychological of the characters and not the environment. Secondly, our heroes certainly had their allies and enemies, but the latter came and went. The scenes that included them were of considerable enough amount, but they ended always too soon when we compare to the pacing of the story overall – quite slow.
When they got to the Agency and parked in the garage, Boyd hesitated when he got out of the van. He found himself strangely unwilling to leave Sin. It felt a bit awkward, as if he was acting like they were two people on a date trying to decide whether or not they should kiss at the front door.

It doesn't matter that much, however, because no book is perfect (expect if your title is Captive Prince: Volume Two) and especially firsts in series. So, congratulations to the authors for creating such an outstanding literally work! And thank you for sharing it with us for free. That's right! You can download this wonder HERE.