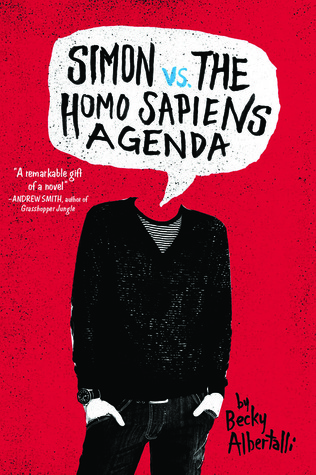 Simon vs. the Homo Sapiens Agenda by Becky Albertalli
My rating: ? of 5 stars
Received: Giveaway
Publication Date: April 7th 2015
Publisher: Balzer + Bray
Point of View: 1st Person & Masculine
Genres & Themes: Young Adult, Contemporary, LGBT, High School, Coming of Age, Friendship, Love
BLURB:
Sixteen-year-old and not-so-openly gay Simon Spier prefers to save his drama for the school musical. But when an email falls into the wrong hands, his secret is at risk of being thrust into the spotlight. Now Simon is actually being blackmailed: if he doesn't play wingman for class clown Martin, his sexual identity will become everyone's business. Worse, the privacy of Blue, the pen name of the boy he's been emailing, will be compromised.
With some messy dynamics emerging in his once tight-knit group of friends, and his email correspondence with Blue growing more flirtatious every day, Simon's junior year has suddenly gotten all kinds of complicated. Now, change-averse Simon has to find a way to step out of his comfort zone before he's pushed out—without alienating his friends, compromising himself, or fumbling a shot at happiness with the most confusing, adorable guy he's never met.
REVIEW:
There's this pause. We're still looking at each other. And there's this feeling in my stomach like a coil pulled taut.
''It's you,'' I say.

3 stars? 3.5 stars? I'm honestly not sure. Prior to reading this novel, I had read maybe five, six, seven reviews that upped my anticipation like crazy. They all mentioned how ''cute'' and ''adorable'' this novel is. And it's true. I wouldn't be surprised to see Simon vs. the Homo Sapiens Agenda becoming a New York Times bestseller and would actually be proud of it. After all, it does deal with meaningful and important themes.
Still… even thought beautiful and light and atmospheric, the author wrote a pretty simple story. Simon was easy to relate to and love, for sure, and genuine, undoubtedly, but apace did he get attached to people. I felt as if, throughout the story, Simon fell in love twice, and the third time could have been possible. It made me question the realisticity of his character and the story overall.
I'm tired of coming out. All I ever do is come out. I try not to change, but I keep changing, in all these tiny ways. I get a girlfriend. I have a beer. And every freaking time, I have to reintroduce myself to the universe all over again.

When Simon's exchanged e-mails with Blue are found by Martin, a classmate, this latter starts ''blackmailing'' Simon into putting in a good word for him with Abby, the girl he secretly likes. And Simon, by fear of embarrassing and ruining his relationship with sweet and not-ready-to-come-out-of-the-closet Blue, if Martin decides to show everyone the e-mails, does what Martin asks him to. But things don't always go the way we want them to, and people don't always react the way we wish they would.
Maybe, just maybe, I would have enjoyed this book at least treble if it hadn't been my third read with a gay character being apart of a play, the first two being Will Grayson, Will Grayson and My Most Excellent Year. This is an assumption, but I believe it to be applicable. After all, who truly enjoys reading about similar things over and over again? Fortunately, him being in a play wasn't the highlight of this novel or so overly mentioned that it became annoying, but it simply wasn't something that impressed me anymore.
White shouldn't be the default any more than straight should be the default. There shouldn't even be a default.

Also, what highly bothered me was Simon's change of heart toward a character in the story, a person he seemed to be smitten with from the start. I understand the author wanting to really focus on Simon & Blue and not Simon and anybody else, but the character in question was so lovely that I felt bad when HE openly took interest in Simon and this latter didn't care about him that much anymore.
Not enough romance but, when there will be some, YOU WILL FEEL IT. It was heartfelt and, even though I wasn't too excited about the person Simon ended up with, their chemistry was evident and, after all, if he's happy, than I'm happy.