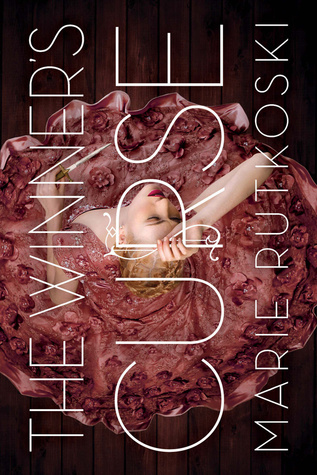 The Winner's Curse by Marie Rutkoski
My rating: 3.5 of 5 stars
Received: Bought
Publication Date: Farrar Straus Giroux
Publisher: March 4th 2014
Point of View: 3rd Person & Alternative
Genres & Themes: Young Adult, High Fantasy, Romance, Slavery
BLURB:
Winning what you want may cost you everything you love…
As a general's daughter in a vast empire that revels in war and enslaves those it conquers, seventeen-year-old Kestrel has two choices: she can join the military or get married. But Kestrel has other intentions.
One day, she is startled to find a kindred spirit in a young slave up for auction. Arin's eyes seem to defy everything and everyone. Following her instinct, Kestrel buys him—with unexpected consequences. It's not long before she has to hide her growing love for Arin.
But he, too, has a secret, and Kestrel quickly learns that the price she paid for a fellow human is much higher than she ever could have imagined.
Set in a richly imagined new world, The Winner's Curse by Marie Rutkoski is a story of deadly games where everything is at stake, and the gamble is whether you will keep your head or lose your heart.
REVIEW:
*Read & reviewed back in March, 2014.
**The second long review I have ever written, so I apoligize for it is not fantastic.
***You can read my review for book 2 HERE.
___________________________
FORBIDDEN LOVE: KESTREL AND ARIN
Arin smiled. It was a true smile, which let her know that all the others he had given her were not. "Thank you," he said.
Kestrel felt herself blush. She focused on the keys and played something, anything. A simple pattern to distract herself from the fact that she wasn't someone who easily blushed, particularly for no clear reason.
Okay, so we have seventeen years old Kestrel, the general's daughter, who's pressured on enlisting in his father's army. Before you think further, you need to know that that's just the way it goes there. Enlisting or marring. Since she's more a thinker than a fighter, she wants nothing to do with it. Except, she makes a bargain with his father which basically gives her six months before deciding either enlisting or marrying a Valorian. So the society is composed of the Valorians, and the Herrani which are principally slaves.
Kestrel impulsively buys a slave, a trained as a blacksmith one to be precise.
I have to say that Kestrel was really naïve when it came to Arin, the slave. He was acting all noble and higher then he really was with no fear like normal slaves would. I'm not saying that I like seeing slaves with fear in their eyes. It just that, since he wasn't acting like one, It felt like the story was less serious, real. And Kestrel, she never complained about it. In the contrary, she obviously was intrigued of Arin's way of being and was interested on knowing him more.
It actually reminded me a lot of Throne of Glass and Legend (don't ask me why) so, if you liked those, you will probably enjoy this one too.
What's with the fantasy shelf and being the most popular one by the way? That's one of the reasons I picked up this book (the other reasons are the beautiful cover and the praised ratings). It is principally a growing forbidden love between a smart heroine and a kick-ass hero not liking each other but then falling in love because their attraction is too strong and true in an dangerous world. I really hoped some magic was involved. But no…
The romance part of the story was predictable and didn't have that loving and exciting spark. I wish there wasn't a love triangle…
Hey, not saying here this was a bad novel. I necessarily wasn't since I gave it three and a half deserved stars. I liked the writing. The way the author described the surrounding and the characters' feelings got my attention and kept me from being bored and cursing it..
The world building was nicely imagined and had its own special atmosphere. The plot was also well created and never slow at all, events fluently following one another. A movie interpretation could be made by this book. I'd love to see the ball in motion. *.*
I would recommend it for whoever likes love-triangles, war settings, forbidden love and action-packed books. Really, this was a good YA read.
Quotes I liked: **MAY BE SPOILERS**
"Your cough is starting to worry me," she told her nurse as they sat near the fire in her cottage.
"I rather like it. It keeps me company. And it brings you to visit more frequently … when you are not playing Bite and Sting".
When she closed her eyes, she remembered something her father had often told her as a child, and would say to soldiers the night before a battle: "Nothing in dreams can hurt you."
Sleep settled on her like velvet.
"Bring this to the general as swiftly as you can." She gave Rax the first letter. "Have a messenger deliver this other letter to Jess and Ronan."
"What?" Arin said. "Wait—"
"And lock this slave up."