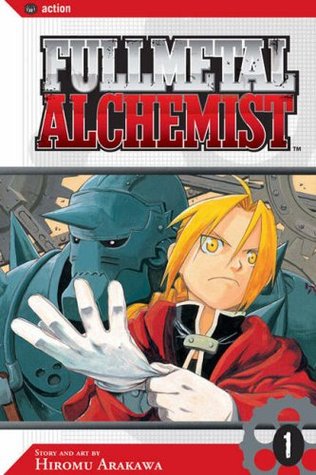 Fullmetal Alchemist, Vol. 1 by Hiromu Arakawa
My rating: 3 of 5 stars
Received: Online – Mangafox
Publication Date: January 1st 2002
Publisher: ガンガンコミックス
Point of View: Masculine
Genres & Themes: Young Adult, Steam punk, Adventure
BLURB:
Alchemy: the mystical power to alter the natural world; something between magic, art and science. When two brothers, Edward and Alphonse Elric, dabbled in this power to grant their dearest wish, one of them lost an arm and a leg…and the other became nothing but a soul locked into a body of living steel. Now Edward is an agent of the government, a slave of the military-alchemical complex, using his unique powers to obey orders…even to kill. Except his powers aren't unique. The world has been ravaged by the abuse of alchemy. And in pursuit of the ultimate alchemical treasure, the Philosopher's Stone, their enemies are even more ruthless than they are…
REVIEW:
I have no idea what, in this manga, prompted an average rating of 4.47/5 stars. No idea. It's even higher than Death Note, Vol. 1: Boredom (which is the most read manga on GR) and Fairy Tail, Vol. 01 which, until it became too repetitive, used to be my F-A-V-O-R-I-T-E manga series. Because the characters and drawings and world-building are extraordinary.
Nonetheless, the world-building in this book too wasn't bad either. But there were too many characters that appeared and then disappeared… no time to get attached. This is something that I think can be interesting but NOT in a first volume! Edward and his brother, however, were fun to follow on their "adventures". There was a good enough backstory but too short! Very little detail! I'm going to assume, though, that there will be more in the sequels.
The premise was something I enjoyed too. Too many "cases" (problems) to resolve – I would prefer one but long, deep and poignant – but just the fact that there were alchemists in the storyline was something unique and I wish to discover more about them.
I will continue with this series.