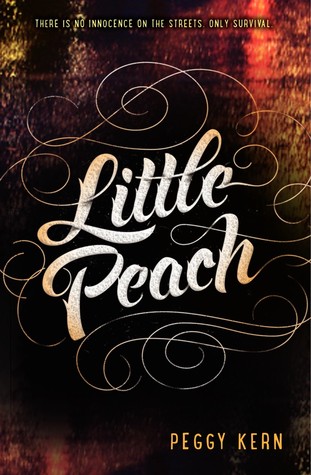 Little Peach by Peggy Kern
My rating: 5 of 5 stars
Received: Bought
Publication Date: March 10th 2015
Publisher: Balzer & Bray/Harperteen
Point of View: 1st Person & Feminine
Genres & Themes: Young Adult, Realistic Fiction, Contemporary, Abuse
BLURB:
What do you do if you're in trouble?
When Michelle runs away from her drug-addicted mother, she has just enough money to make it to New York City, where she hopes to move in with a friend. But once she arrives at the bustling Port Authority, she is confronted with the terrifying truth: she is alone and out of options.
Then she meets Devon, a good-looking, well-dressed guy who emerges from the crowd armed with a kind smile, a place for her to stay, and eyes that seem to understand exactly how she feels.
But Devon is not what he seems to be, and soon Michelle finds herself engulfed in the world of child prostitution where he becomes her "Daddy" and she his "Little Peach." It is a world of impossible choices, where the line between love and abuse, captor and savior, is blurred beyond recognition.
This hauntingly vivid story illustrates the human spirit's indomitable search for home, and one girl's struggle to survive.
REVIEW:
''Someday, Peach. We'll be outta here. Off to somewhere beautiful,'' he says. ''The most beautiful place you've ever seen.''

You might not know it, but… you need this book in your life.
I know the world can be a horrifyingly scary place and that it will never even come close to being perfect. I know there are people out there with so much less luck than we have and with awfully poor conditions and situations… Yet, I have read very few stories with ''hard'' themes such as prostitution and that by choice. Because reading has always been something I do out of pleasure… and no way is this the kind of book I could ever ''enjoy.''
But hell was it impossible to separate myself from it.
This was, for me, a different, exceptionally absorbing, emotional, and even powerful read. Every character was highly flawed, made decisions you might not agree with but can come to… understand, will make you feel a thousand distinct sentiments and, most important of all, they may modify your view on prostitution. At least, it changed mine. I had no idea how it could wreck one person. For sure I didn't think it to be easy for the prostitutes, but I learned while reading that not everyone does it for the same reason, or has the same reaction to it. And having three different characters – Little Peach, Baby and Kat – that were all trapped in this horrible world of prostitution and reading about their daily life inside it made everything look simultaneously real, authentic and heartfelt.
What I loved most about this short novel was that it was both a realistic story and quite an informative one, since it has been inspired by real life people and places. The author didn't just invent or write what she thought prostitution to be. She made a lot of research on it and it showed.
It is not a book I will re-read, but surely one I will remember.