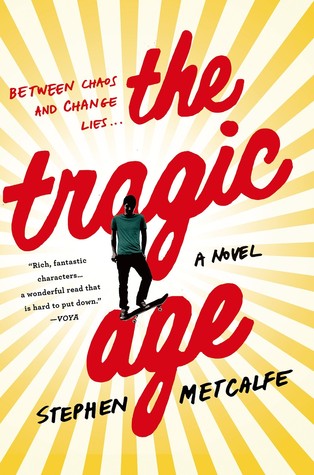 The Tragic Age by Stephen Metcalfe
My rating: 3 of 5 stars
Received: Publisher
Publication Date: March 3rd 2015
Publisher: St. Martin's Griffin
Point of View: 1st Person & Masculine
Genres & Themes: Young Adult, Contemporary, Psychological, Love, Life
Goodreads | Amazon.ca | Indigo
BLURB:
This is the story of Billy Kinsey, heir to a lottery fortune, part genius, part philosopher and social critic, full time insomniac and closeted rock drummer. Billy has decided that the best way to deal with an absurd world is to stay away from it. Do not volunteer. Do not join in. Billy will be the first to tell you it doesn't always work— not when your twin sister, Dorie, has died, not when your unhappy parents are at war with one another, not when frazzled soccer moms in two ton SUVs are more dangerous than atom bombs, and not when your guidance counselor keeps asking why you haven't applied to college.
Billy's life changes when two people enter his life. Twom Twomey is a charismatic renegade who believes that truly living means going a little outlaw. Twom and Billy become one another's mutual benefactor and friend. At the same time, Billy is reintroduced to Gretchen Quinn, an old and adored friend of Dorie's. It is Gretchen who suggests to Billy that the world can be transformed by creative acts of the soul.
With Twom, Billy visits the dark side. And with Gretchen, Billy experiences possibilities.Billy knows that one path is leading him toward disaster and the other toward happiness. The problem is—Billy doesn't trust happiness. It's the age he's at.  The tragic age.
Stephen Metcalfe's brilliant, debut coming-of-age novel, The Tragic Age, will teach you to learn to love, trust and truly be alive in an absurd world. Continue reading →