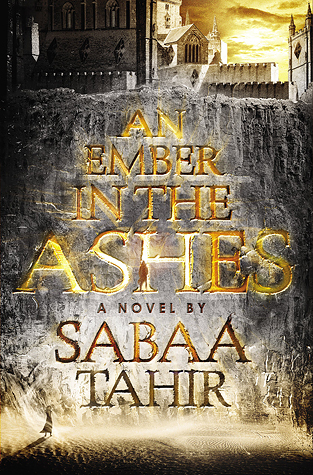 An Ember in the Ashes by Sabaa Tahir
My rating: 3.5 of 5 stars
Received: Publisher
Publication Date: April 28th 2015
Publisher: Razorbill
Point of View: 1st Person & Alternative
Genres & Themes: Young Adult, Fantasy, Action, Adventure, Romance, Loyalty, Freedom
BLURB:
Set in a terrifyingly brutal Rome-like world, An Ember in the Ashes is an epic fantasy debut about an orphan fighting for her family and a soldier fighting for his freedom. It's a story that's literally burning to be told.
LAIA is a Scholar living under the iron-fisted rule of the Martial Empire. When her brother is arrested for treason, Laia goes undercover as a slave at the empire's greatest military academy in exchange for assistance from rebel Scholars who claim that they will help to save her brother from execution.
ELIAS is the academy's finest soldier—and secretly, its most unwilling. Elias is considering deserting the military, but before he can, he's ordered to participate in a ruthless contest to choose the next Martial emperor.
When Laia and Elias's paths cross at the academy, they find that their destinies are more intertwined than either could have imagined and that their choices will change the future of the empire itself.
REVIEW:

The field of battle is my temple. The swordpoint is my priest. The dance of death is my prayer. The killing blow is my release.

An Ember in the Ashes is THE book I was looking most forward to in 2015. I can't say that I'm completely pleased with the way it turned out, because, being my most anticipated title, I naively envisioned this to be P-E-R-F-E-C-T-I-O-N or, at least, perfectly enjoyable. But, don't worry, Sabaa Tahir clearly did a fine job at putting together an intensive series of events that superbly form a story. A story that will grip.
We follow the path of two main characters: Laia and Elias. Laia is a Scholar in search of her brother. This latter has been imprisoned and Laia's only goal is to free him. To do so, she aligns with the Resistance, believing they will free her brother if she helps them. Elias, on the other hand, is a Mask and the Commandant's soon. He and a few other of his ''rank'' need to show their skills in the trials and attempt to win them. Whoever wins will become the next emperor.
''Don't tell me you believe in myths of junn and efrits and wraiths that kidnap children in the night?''
''No.'' I think of the raid. Of the mark. My lightness melts away. ''I don't need to believe in the supernatural. Not when there's worse that roams the night.''

Not bad, don't you think? I was wholly engrossed in the story. While it was slow-paced and the action not present throughout, I never felt the lack of it. A good balance was offered. Some characters were indeed shockingly pitiless or rudely villainous, some emotions so strongly raw that they had an impact on my state of mind, the atmosphere thick and oppressive… but everything was bearable and, instead of discomforting me, it made me want more. It made me want to kick some asses, to break that infectious system of theirs and hold tight to unlucky dear Laia.
A love-triangle can be manageable and, under some circumstances, quite pleasurable but, two? … No, thank you. I tried to let it go. I tried to visualize it and tell myself that it's alright, that it makes sense and it's definitely justified, but I couldn't come to be fond of it. The problem, I shall tell you, is that Laia didn't make a choice. She let both guys pursue her heart. But then there's the other love-triangle. That other one – two girls for a boy – could have been avoided. It wasn't necessary to the plot. I believe a girl and a boy can truly and only be friends… sigh.
I look up at the stars hanging low in a sky that makes me think I'm seeing the infinite. But beneath their cold gaze, I feel small. All the beauty of the stars means nothing when life here on earth is so ugly.

The other thing is the ending. If this is a standalone set in stone really and unchangingly, it is probably the most infuriating I have ever read, because of the monumental amount of questions that remained inside my head. It would feel as if the story has been cut in two for unknown reasons. If this turns out to be the first in a new series though, it is one hell of a starter!