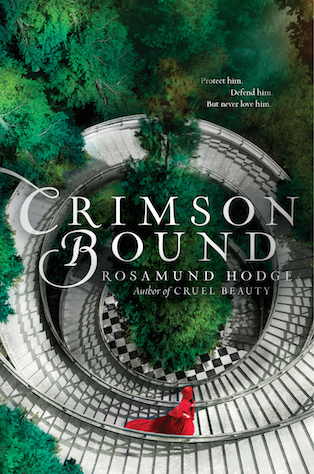 Crimson Bound by Rosamund Hodge
My rating: 4 of 5 stars
Received: Swapped
Publication Date: May 5th 2015
Publisher: Balzer + Bray
Point of View: 3rd Person & Feminine
Genres & Themes: Young Adult, Fantasy, FairyTales, Dark, Romance
BLURB:
When Rachelle was fifteen she was good—apprenticed to her aunt and in training to protect her village from dark magic. But she was also reckless— straying from the forest path in search of a way to free her world from the threat of eternal darkness. After an illicit meeting goes dreadfully wrong, Rachelle is forced to make a terrible choice that binds her to the very evil she had hoped to defeat.
Three years later, Rachelle has given her life to serving the realm, fighting deadly creatures in an effort to atone. When the king orders her to guard his son Armand—the man she hates most—Rachelle forces Armand to help her find the legendary sword that might save their world. As the two become unexpected allies, they uncover far-reaching conspiracies, hidden magic, and a love that may be their undoing. In a palace built on unbelievable wealth and dangerous secrets, can Rachelle discover the truth and stop the fall of endless night?
Inspired by the classic fairy tale Little Red Riding Hood, Crimson Bound is an exhilarating tale of darkness, love, and redemption.
(This is a standalone novel, not part of the Cruel Beauty Universe.)
REVIEW:
''Tell me about the Devourer,'' she said. ''What is he, really?''
''The breath in our mouths and the hunger in our hearts,'' said the forestborn. ''Be patient, little girl. You'll meet him yourself someday.''

Crimson Bound was a mesmerizing read. Unlike I first imagined, this was no retelling of Little Red Riding Hood. For sure, some elements here and there could be compared to that classic story, but, like Cruel Beauty, this novel took unexpected turns. It's not… You can't… In vain did I make predictions, because I ended up being astonishingly wrong. My attempts revealed to be all fruitless. Rosamund Hodge twists her stories… and she does it well.
''Tyr and Zisa killed the Devourer,'' she said. ''Zisa died, and Tyr became king.''
''No,'' said Aunt Léonie. ''Tyr and Zisa only bound him. And that binding is nearly worn out.''
Quietly, relentlessly, Aunt Léonie went on, ''One day soon he will open his eyes and yawn, and then he will swallow up the moon and the sun, and we shall live in darkness once again.'' She met Rachelle's eyes. ''Do you believe me child?''

It was a fairytale nonetheless, for the narration and writing gave this feeling to the reader of reading something otherworldly precious and… dark. Rachelle never wanted, never in her worst nightmares imagined that she will one day be a bloodbound. But, against her deepest wishes, she was turned into one. Instead of wandering into the woods and joining the living creatures inside it, she became apart of the King's Royal Order of Penitents as a huntress. Until recently. She was newly assigned to be Armand's guard, the King's son. This situation is a burden to her, for she needs to find Joyeuse, the weapon that will kill the Devourer. (I throughout the story found strange for the weapon's name to be ''Joyeuse,'' meaning ''Joyful'' in English. Not the most common name for a weapon, that's for sure.)
Until around 2/3 of the book, I found it perfect. No flaws. Everything flowed and was enjoyable, really nothing negative to say. I mean, I discerned a love-triangle taking slowly form but my enjoyment of the characters made it impossible for me to be turned off by it. But then Rachelle's confused and mixed feelings about both men suddenly kicked in. That wasn't supposed to happen. That should not have happened. And that wasn't even the colossal problem. No, what made it that I actually felt strongly displeased by the romance was when I discovered how corny it really was. Confession of love between two characters that pictures its dullness (no names mentioned, but don't read if you think it could affect your reading experience):
''This is all I have to give you,'' she said. ''I'm—I'm still bloodbound. You know what that means.''
''Yes,'' he said quietly. ''Yes, I do.''
''But everything I have,'' she said. ''I want to give it to you. Because I love you. I think I'm falling in love with you.''
''I don't have anything else to give you, either'' he said. ''But I think I love you too.''
So, yes, the romance definitely started out in a lovely enough way… but went undeniably downhill. But that's okay, since I read this for the fantasy and I got everything I was looking for, for that part. And the writing was, as always, very elegant.
Indubitably a book to pick, if you have enjoyed Cruel Beauty and/or Gilded Ashes or just dark fairytales in general. While it wasn't related to the previous mentioned titles, it stands well by itself as a substancial in content novel, so I am definitely making no complaints. But I would indeed love to see these books being linked to one another in a certain way, perhaps the way L.J. Smith achieved to with her Night World series.