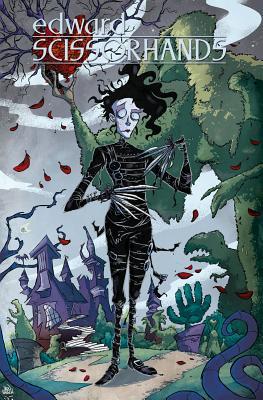 Edward Scissorhands Volume 1: Parts Unknown by Kate Leth
My rating: 3.5 of 5 stars
Received: NetGalley
Publication Date: May 19th 2015
Publisher: IDW Publishing
Point of View: Feminine
Genres & Themes: Comics, Fantasy, Young Adult
BLURB:
An all-new adventure revisiting Edward Scissorhands' two decades after the end of the fan-favorite movie! In a castle just outside a sleepy suburban town, a brilliant inventor created Edward Scissorhands… but left him tragically unfinished. Two generations of exile have left Edward digging through abandoned experiments, but once he wakes up a creature left buried, he discovers he isn't the only one missing a vital piece. As Edward tries to fix a grave mistake, he comes face-to-face with a teenage girl who was sure he was only myth… despite the stories her grandmother told her about the man she could never touch.
REVIEW:
The artwork was F-A-N-T-A-S-T-I-C.
Exactly my style! I love it when artists don't leave blank spaces in comics or fill them with a single (but probably much considered) colour.
This story took place two generations after the movie and, instead of Kim, we had her granddaughter as main character, Megan… But why did the people working on this comic decide to leap through time so much? It took some time to get used to this new character. We got acquainted quite forcefully. But she was the kind of teenager readers of the same group age can easily relate to. She'll probably become dear to me, by the end of the next volume.
So, in this publication we have Edward finding a hidden boy robot he decides to activate. Except, he only after manoeuvre finds a note saying that Eli, whom he just brought to life, is hostile! But the biggest problem is that… he escaped…
There was so much to get wild about in this comic! The illustrations for instance, EDWARD – it was so good to see him again! –, the plot sure wasn't uneventful even though the ending appeared so rushed, the illustrations, the illustrations, the illustrations.
Have I mentioned that I loved the illustrations?