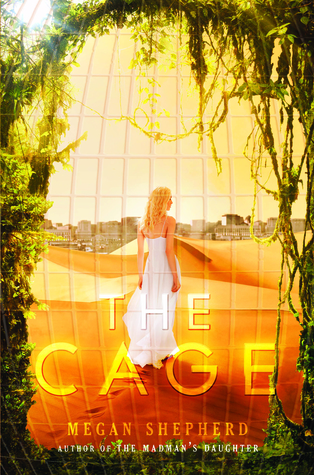 The Cage by Megan Shepherd
My rating: 2 of 5 stars
Received: Publisher
Publication Date: May 26th 2015
Publisher: Balzer+Bray/HarperCollins
Point of View: 3rd Person & Alternative
Genres & Themes: Young Adult, Science Fiction, Romance
Goodreads | Amazon.ca | Indigo
BLURB:
The Maze Runner meets Scott Westerfeld in this gripping new series about teens held captive in a human zoo by an otherworldly race. From Megan Shepherd, the acclaimed author of The Madman's Daughter trilogy.
When Cora Mason wakes in a desert, she doesn't know where she is or who put her there. As she explores, she finds an impossible mix of environments—tundra next to desert, farm next to jungle, and a strangely empty town cobbled together from different cultures—all watched over by eerie black windows. And she isn't alone.
Four other teenagers have also been taken: a beautiful model, a tattooed smuggler, a secretive genius, and an army brat who seems to know too much about Cora's past. None of them have a clue as to what happened, and all of them have secrets. As the unlikely group struggles for leadership, they slowly start to trust each other. But when their mysterious jailer—a handsome young guard called Cassian—appears, they realize that their captivity is more terrifying than they could ever imagine: Their captors aren't from Earth. And they have taken the five teenagers for an otherworldly zoo—where the exhibits are humans.
As a forbidden attraction develops between Cora and Cassian, she realizes that her best chance of escape might be in the arms of her own jailer—though that would mean leaving the others behind. Can Cora manage to save herself and her companions? And if so . . . what world lies beyond the walls of their cage?
REVIEW:
Cora and the five other encaged teenagers – Lucky, Rok, Mali, Rolf and Leon – have to, in the human zoo they are confined in, conform to three rules before the twenty-first day of isolation from Earth had passed… or else they will be ''removed''. The following directives were created by an extraterrestrial specie:
1. Decode the puzzles hidden inside their custody
2. Provide their body everything necessary in order to stay healthy
3. Reproduce
You know, I frankly think that this could have worked a little better if it were written for an adult/NA audience (if modifications). So much probably would have been explored in more dept. Shepherd's writing is noteworthy so, clearly, that wasn't where the problem resided. Is it really in the development of elements that the author's talent lost its visibility.
First, the characters barely paid attention to the actual ''puzzles''. They were way more focused on a) finding a way out, b) sleeping with one another or c) simply wander around doing NOTHING at all. Why I believe that as an adult novel it might have ended differently (and in a good way) is that sex, procreation and assuring the continuation of the human specie was talked throughout the story but with carefulness because YA. But without that limitation, it could have offered the plot very important themes for us to read about and not leave the latter shallow and mostly brought from trivial manipulation. Even human nature as theme narrowly showed its face.
Second, the story was just so forgettable. The characters manifested no originality and, if one did – Mali – her role was so meagre that an attachment per se revealed being almost impossible or completely insignificant. The story flowed at a reasonably fast speed, which can never be a negative thing if the story itself needs it… or if YOU need it. I absolutely did. A slow-pacing would have periodically brought me to sleep.
Finally, if you want good romance or at least a heartfelt one, The Cage is not the answer to your longing. With a love-triangle between a human girl, a human boy and an alien, things couldn't have been more predictable. What bothered me most though was seeing how the narrator kept describing the love interests' appearance instead of their personality. I am tired of beauty being the first and second and third thing characters look at. What I personally long for right now is to read a story with two people that fall in love with one another – among other events in the plot – gradually and with realisticness… and actually falling in love without making their aspect the starting point of it all.