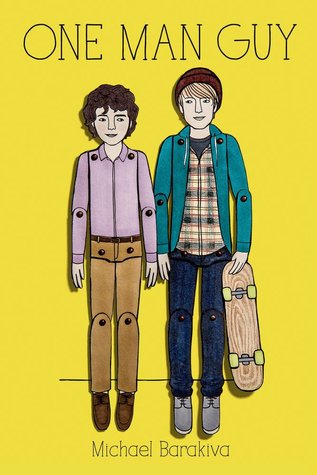 One Man Guy by Michael Barakiva
My rating: 2 of 5 stars
Received: Borrowed
Publication Date: May 27th 2014
Publisher: Farrar, Straus and Giroux (BYR)
Point of View: 3rd Person & Masculine
Genres & Themes: Young Adult, Contemporary, LGBT, Cultural, Family, Friendship, Love
BLURB:
A heartfelt, laugh-out-loud-funny story of romance, family, and self-discovery.
Alek Khederian should have guessed something was wrong when his parents took him to a restaurant. Everyone knows that Armenians never eat out. Between bouts of interrogating the waitress and criticizing the menu, Alek's parents announce that he'll be attending summer school in order to bring up his grades. Alek is sure this experience will be the perfect hellish end to his hellish freshman year of high school. He never could've predicted that he'd meet someone like Ethan.
Ethan is everything Alek wishes he were: confident, free-spirited, and irreverent. He can't believe a guy this cool wants to be his friend. And before long, it seems like Ethan wants to be more than friends. Alek has never thought about having a boyfriend—he's barely ever had a girlfriend—but maybe it's time to think again.
REVIEW:
Reading this LGBT book surely didn't feel like an obligation or homework meaning that I relatively did so with interest, but, by the end, I did realize how there were things that I enjoyed and many others that I disliked. Here they are:
What I Liked
1. The LGBT theme, since it is not secret that I think gay romance to be beautiful. It was good to see how it didn't actually bring "drama" to the story.
2. Cultural diversity in books! It was interesting to learn about Armenian people, because I shamefully knew nothing about them before. Now, of course, I might not be an expert, but this novel enlightened me on what traditional meals they eat and how tradition themselves are important to them.
3. Alek's determination and ready-to-do-the-right-thing side. He was a headstrong boy but there were also many things to admire about him.
4. Alek's family for they were more than entertaining! And particuraly original; the fact that they only ate healthy and disassembled a meal with their minds before doing so.
5. The pacing; it was fast so a very easy to read (and pretty short) book.
6. How light everything felt, even heavy subjects.
What I Didn't Quite Like
1. Ethan… He was not my type of guy or even the kind I would have as a friend. He and Alek were more than different: complete opposites! He was sweet, but his not caring about school left me glaring at him. I'm positive we wouldn't get along well on plenty of subjects.
2. The writing was very simple and not impressive at all. Okay, I guess.
3. Even though there seemed to have been accurate information in this story about the Armenians and life as a teenager in general, there were scenes that appeared very unrealistic to me and others too rushed. The ending for instance looked more like something the main character would dream of than reality.
4. The lack of romantic scenes! If there's going to be gay romance, please, make us feel it.
5. How the author made characters do actions that could be seen in Hollywood comedy movies (for instance Becky's speech when quitting her job). She was a fun supportive cast member though and a very spirited one for sure.
6. Alek trying to imitate Ethan's way of behaving and style. I understood him having influence to the highest of points on him, but I wish he didn't feel the need to do so here and there. Ethan did give him courage however, so it wasn't completely a bad thing.
7. Where was the humor? The blurb promised humor and, except for Becky, not much remotely cracked me up.
8. How light everything felt, even heavy subjects (both a good and bad thing).