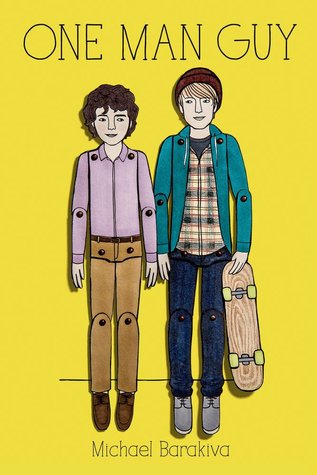 One Man Guy by Michael Barakiva
My rating: 2 of 5 stars
Received: Borrowed
Publication Date: May 27th 2014
Publisher: Farrar, Straus and Giroux (BYR)
Point of View: 3rd Person & Masculine
Genres & Themes: Young Adult, Contemporary, LGBT, Cultural, Family, Friendship, Love
BLURB:
A heartfelt, laugh-out-loud-funny story of romance, family, and self-discovery.
Alek Khederian should have guessed something was wrong when his parents took him to a restaurant. Everyone knows that Armenians never eat out. Between bouts of interrogating the waitress and criticizing the menu, Alek's parents announce that he'll be attending summer school in order to bring up his grades. Alek is sure this experience will be the perfect hellish end to his hellish freshman year of high school. He never could've predicted that he'd meet someone like Ethan.
Ethan is everything Alek wishes he were: confident, free-spirited, and irreverent. He can't believe a guy this cool wants to be his friend. And before long, it seems like Ethan wants to be more than friends. Alek has never thought about having a boyfriend—he's barely ever had a girlfriend—but maybe it's time to think again.