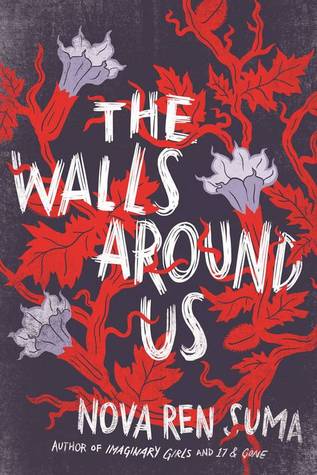 The Walls Around Us by Nova Ren Suma
My rating: 3 of 5 stars
Received: NetGalley
Publication Date: March 24th 2015
Publisher: Algonquin Young Readers
Point of View: 1st Person & Alternative
Genres & Themes: Young Adult, Paranormal, Ghosts, Revenge
BLURB:
"Ori's dead because of what happened out behind the theater, in the tunnel made out of trees. She's dead because she got sent to that place upstate, locked up with those monsters. And she got sent there because of me."
The Walls Around Us is a ghostly story of suspense told in two voices—one still living and one long dead. On the outside, there's Violet, an eighteen-year-old dancer days away from the life of her dreams when something threatens to expose the shocking truth of her achievement. On the inside, within the walls of a girls' juvenile detention center, there's Amber, locked up for so long she can't imagine freedom. Tying these two worlds together is Orianna, who holds the key to unlocking all the girls' darkest mysteries.
We hear Amber's story and Violet's, and through them Orianna's, first from one angle, then from another, until gradually we begin to get the whole picture—which is not necessarily the one that either Amber or Violet wants us to see.
Nova Ren Suma tells a supernatural tale of guilt and innocence, and what happens when one is mistaken for the other.
REVIEW:
Jealousy can transform one into a monster, it really can.
I guess the perfect word to describe this book is ''disturbing.'' It wasn't just a ghost story among a thousand many others. Everything about it was unsettling, especially its atmosphere. The story itself didn't perturb me the most; it was the nonchalance and emotionless state of the creepy characters that discountenanced my state of mind. And that mostly because this book had no plot, or so.
The author seemed to go with the flow and write whatever felt right to her, without any plan visible. The story started with us being witnesses of the Aurora Hills Secure Juvenile Detention Center inmates running for their lives to escape this prison. All, except for Amber. There might have been dozens of characters in this book, but we only had the point of view of two of them: Amber and the shooting star ballerina, Violet. They both had their stories to tell, but it toke a lot of chapters for them to do so. That was one of the things that infuriated me a little about this book. I felt as if the three hundred first pages were some sort of introduction/presentation to the ''read deal.''
Also, I would have desired to know Orianna's point of view on everything since, even after my finishing of The Walls Around Us, she remained a mystery for me. She was, as I realized while reading, the most important character in this novel. Because of her, links were created, revenges planned, blood spilled. The catch was that she always seemed too perfect to be truthful. I couldn't help but suspect her, I couldn't help but suspect everyone. So, when the moment of revelation came, I became dazed, stupefied in front of the alignment of words, my thoughts a muddle.
What I loved most and appreciated throughout my read was patently the writing. Even if the story were a confusing mess, I'm positive I still would have struggled to finish it, if only to be able to aliment my mind with those beautiful descriptions and ubiquitous figures of speech. I just… can't believe how well The Walls Around Us was written.
It wasn't all sinister though. In fact, you will recognize some true love being present, real friendship hidden behind acts and loyalty between some characters.
I might never have heard of Nova Ren Suma before but, no fear, I will not easily forget this author.