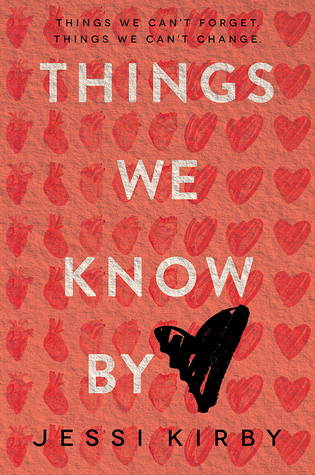 Things We Know by Heart by Jessi Kirby
My rating: 3 of 5 stars
Received: Giveaway
Publication Date: April 21st 2015
Publisher: HarperTeen
Point of View: 1st Person & Feminine
Genres & Themes: Young Adult, Realistic Fiction, Contemporary, Death, Love, Family
BLURB:
When Quinn Sullivan meets the recipient of her boyfriend's donated heart, the two form an unexpected connection.
After Quinn loses her boyfriend, Trent, in an accident their junior year, she reaches out to the recipients of his donated organs in hopes of picking up the pieces of her now-unrecognizable life. She hears back from some of them, but the person who received Trent's heart has remained silent. The essence of a person, she has always believed, is in the heart. If she finds Trent's, then maybe she can have peace once and for all.
Risking everything in order to finally lay her memories to rest, Quinn goes outside the system to track down nineteen-year-old Colton Thomas—a guy whose life has been forever changed by this priceless gift. But what starts as an accidental run-in quickly develops into more, sparking an undeniable attraction. She doesn't want to give in to it—especially since he has no idea how they're connected—but their time together has made Quinn feel alive again. No matter how hard she's falling for Colton, each beat of his heart reminds her of all she's lost…and all that remains at stake.

REVIEW:
Keep love in your heart. A life without it is like a sunless garden when the flowers are dead.
-Oscar Wilde

It is not every day that I am determined to read titles dealing with organ donation, such a realistic and rarely spoken of subject. Or movies to watch, for that matter. The last one I remember having seen a couple of years ago, and was quite shocked by, was the movie adaptation of the novel Never Let Me Go. However, between contemporary and dystopia, there is quite an enormous set of differences. Depending on the intensity of presence of the genre in question, of course.
So this was a surprisingly light – more like easy – read. Even though it comprised death as omnipresent theme, there was also love and family and beautifulness of life. All of those themes figuratively speaking circled the sadder one and formed a barrier with positivism so it could become less pervasive. And it worked! I felt Quinn's sadness at losing her boyfriend and how her love for him made it hard to let go and move on, but I most of all felt how much she cared for her family and Colton, the boy to whom Trent's heart was given to, after his deadly accident.
Every character's presence in the story felt right, but some were regretfully underdeveloped, for instance Quinn's grandmother, mother and father. Only her sister made multiple appearances that also featured some glimpses or her life and persona. Notwithstanding that fact, they all had wonderful personalities that made them worth knowing, if only briefly, momentarily. Colton's role as love interest was done with talent. I believed every word of affection he uttered to Quinn; he was so truthful and sweet and kind, but also profound and particularly owned to a feeling of concealment even if only to better seek a 'normal' life. This is something that bothered me. They both kept secrets from one another, which created a slightly perceivable unnecessary withhold between them.
To my disappointment, the plot was too simple and repetitive. And predictable. Not the perfect combination, alas, don't you think? I may have enjoyed the story and found it a scanty amount of faults, but there could have patently been a wider total of settings and distinctive scenes to engender more intricacy. Kayaking and surfing must be really tremendous, but why did the couple not wander into another city, go to the cinema or simply… do something germane to the creation of a connection that did not include a beach?
Things We Know by Heart deserves to be devoured by you, for its powerful themes truly stand out and linger on your mind throughout your reading, whether you wish for it to happen or not.