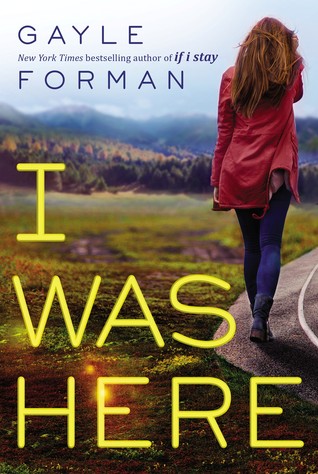 I Was Here by Gayle Forman
My rating: 2 of 5 stars
Received: Borrowed
Publication Date: January 27th 2015
Publisher: Viking Juvenile
Point of View: 1st Person & Feminine
Genres & Themes: Young Adult, Contemporary, Romance, Suicide, Friendship, Family
BLURB:
Cody and Meg were inseparable.
Two peas in a pod.
Until . . . they weren't anymore.
When her best friend Meg drinks a bottle of industrial-strength cleaner alone in a motel room, Cody is understandably shocked and devastated. She and Meg shared everything—so how was there no warning? But when Cody travels to Meg's college town to pack up the belongings left behind, she discovers that there's a lot that Meg never told her. About her old roommates, the sort of people Cody never would have met in her dead-end small town in Washington. About Ben McAllister, the boy with a guitar and a sneer, who broke Meg's heart. And about an encrypted computer file that Cody can't open—until she does, and suddenly everything Cody thought she knew about her best friend's death gets thrown into question.
I Was Here is Gayle Forman at her finest, a taut, emotional, and ultimately redemptive story about redefining the meaning of family and finding a way to move forward even in the face of unspeakable loss.
REVIEW:
Had you shoved this book at me without any author name written and with the single order to ''Read.This.Book,'' I never would have guessed that Gayle Forman wrote this story.
Because this is no breathtaking If I Stay, nor inspiring Where She Went. Not only do I think that the author rested on her laurels with the writing of this book, if we compare to the ones mentioned above, but I'm certain this could have successfully worked, had it been done a little differently.
In the first place, I have to bring up the fact that this relates Cody's experience with loss, the way she reacts after learning her best friend, Meg, committed suicide. She, like most people, doesn't want to let go just yet…because she doesn't understand how she never saw any ''signs'' and she internally blames herself from not being able to prevent this from happening. So she digs deep, and tries to find anything that might give her an explanation and answer to this question : Why?
This has been done before, no denying here…but Gayle Forman did add something new to this scenario: suicide support groups, as for people who are thinking about killing themselves, but need a little more prompting, motivation to commit the final act.
That's what kept me on continuing this read. I couldn't just stop myself halfway in the plot, even if many of this book's constituents, such as the romance, the slow pacing, the main character, Meg, made me quickly lose interest. I HAD to know the conclusion to this novel…and I must say that I was not impressed. I could have predicted that, and I guess I did – somewhat, but it still was underwhelming.
Cody was a good person, when I think of it, but was she a good character to read about? I have to say no, because there was this ''openness'' missing from her. I looked back while writing this review, and realized that Cody didn't share much about herself during the read. Same for Meg, something that irritated me. When characters keep telling me how this girl or this boy is so special and that not knowing him/her is regretful, it exasperates me, but only if the person in question isn't presented well; if I cannot imagine for myself what incredibility lays inside him/her. And that's the problem: for Meg, I couldn't see any of this ''incredibility,'' since the heroine didn't care to present her to us in detail.
The romance was a big ''bad-boy-turned-good'' cliché. But it still could have worked! Ben was pretty believable in his role, but, when there's no romantic chemistry between two people, it is most likely that I will not be credulous into thinking that they will last as a couple.
I feel sorry for saying this, but I'm so glad to be done with this read. Now I can focus on A Discovery of Witches.