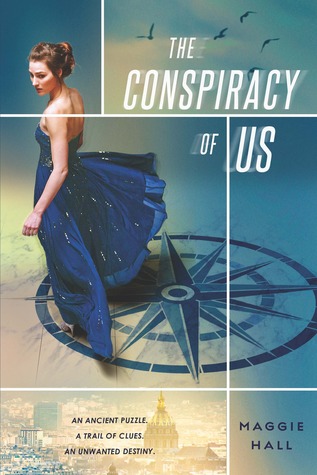 The Conspiracy of Us by Maggie Hall
My rating: 3 of 5 stars
Received: borrowed
Publication Date: January 13th 2015
Publisher: Putnam Juvenile
Point of View: 1st Person & Feminine
Genres & Themes: Young Adult, Contemporary, Mystery, Romance, Family, Suspense, Action
BLURB:
A fast-paced international escapade, laced with adrenaline, glamour, and romance–perfect for fans of Ally Carter
Avery West's newfound family can shut down Prada when they want to shop in peace, and can just as easily order a bombing when they want to start a war. Part of a powerful and dangerous secret society called the Circle, they believe Avery is the key to an ancient prophecy. Some want to use her as a pawn. Some want her dead.
To unravel the mystery putting her life in danger, Avery must follow a trail of clues from the monuments of Paris to the back alleys of Istanbul with two boys who work for the Circle—beautiful, volatile Stellan and mysterious, magnetic Jack. But as the clues expose a stunning conspiracy that might plunge the world into World War 3, she discovers that both boys are hiding secrets of their own. Now she will have to choose not only between freedom and family–but between the boy who might help her save the world, and the one she's falling in love with.
REVIEW:
There are so many things that this book wasn't, but you know what The Conspiracy of Us turned out to be? Fun.
When Avery's high school greets a new student, Jack, Avery is simultaneously and inexplicably attracted and mystified by the guy. And when she finds a photo of herself falling off his bag and hears him make a strange phone call – with a British accent! – she feels Jack is withholding something from her. Turns out her intuition was right, because learning she is somehow connected to the Circle – which consists of the twelve most powerful families on the planet – definitely wasn't what she expected to discover.
With the characters making an escapade to Paris and Istanbul, it was hard not to follow them along and I think those were the story's biggest strength: the action, suspense and mystery seasoned with a shimmer of fashion and glamour that came with the adventure. And what an adventure! Avery and Jack were given as mission to find three objects someone they both knew and was kidnapped hid carefully while, at the same time, being pursued by the Order, whom are enemies of the Circle.
The author explained everything related to the Circle and Order quite clearly, even though the details she gave were unrealistic. She modified the world we live in to her liking, and that is wonderful I think, but by modifying things of the past we all know could not have been true or would not have made sense. I don't think Napoleon was part of the Circle, for example, or that this latter unleashed World War I and II. In fact, the author kept giving detail after detail and explanation after explanation… which actually annoyed me. She tried too hard to convince us. If I couldn't picture it, then I couldn't picture it. But then, chapters later, I did, when things slowly matched somehow better… I just went along with it all, so I could enjoy the story as much as possible.
The wide set of characters was definitely vivid as a whole and brought a peppy atmosphere to the story. They were all shaped with different personalities and the author even included a gay secondary character. Nice! I hope he will have his own love story in the sequels. I love me some gay romance.
I was surprised by how quickly and much Avery and I clicked. She was a fair, courageous, a bit impulsive… but intelligent girl. She was anything but self-centered and spoiled.
It might have looked like it at the beginning of the story, but I wouldn't say that, between Avery and Jack, it was insta-love. Sure she had a crush on him – who wouldn't have? the guy's got charm – but their relationship was a slow burn and never too rushed.
The person who wrote the blurb is right; this will likely appeal to fans of Ally Carter's books.