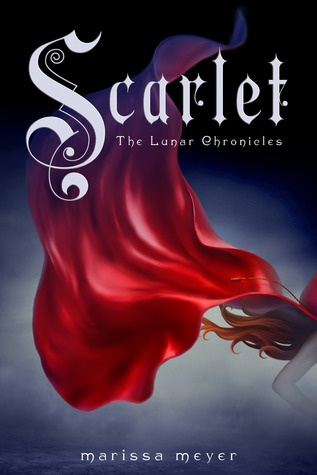 Scarlet by Marissa Meyer
My rating: 5 of 5 stars
Received: bought
Publication Date: February 5th 2013
Publisher: Feiwel and Friends
Point of View: 3rd Person & Alternative
Genres & Themes: Young Adult, Science Fiction, FairyTale Retellings, Romance, Family
BLURB:
Cinder, the cyborg mechanic, returns in the second thrilling installment of the bestselling Lunar Chronicles. She's trying to break out of prison–even though if she succeeds, she'll be the Commonwealth's most wanted fugitive. Halfway around the world, Scarlet Benoit's grandmother is missing. It turns out there are many things Scarlet doesn't know about her grandmother or the grave danger she has lived in her whole life. When Scarlet encounters Wolf, a street fighter who may have information as to her grandmother's whereabouts, she is loath to trust this stranger, but is inexplicably drawn to him, and he to her. As Scarlet and Wolf unravel one mystery, they encounter another when they meet Cinder. Now, all of them must stay one step ahead of the vicious Lunar Queen Levana, who will do anything for the handsome Prince Kai to become her husband, her king, her prisoner.
REVIEW:
This series is quite special to me.
Some months ago, after struggling with SO MANY science fiction reads, I came to the conclusion that, perhaps, it may not a genre for me. Dur. I didn't take it well, let's say, because that meant the hundreds and hundreds hyped sci-fi books out there would most likely not appeal to me either. I know that not every genre can work for everyone, but it's always unfortunate to learn something like this. I just realized how dramatic my confession must have sounded, but I can't help it if that's how I felt at that time.
But, the thing is, after reading Cinder, Scarlet and some of their short stories and LOVING all of them – Scarlet the most however – I realized that, in the book world too, it is not exclusively black or white. There are shades, exceptions. And thank god, because starting this series literally made me realize how there are certainly some other books of this genre out there that I might enjoy as well. Seeking them doesn't hurt. Now that this ''problem'' has been resolved, I shall start working my way to – at least – tolerating horror reads, heh.
Why I preferred this sequel to the first book is probably due to the fact that this continuation to the Lunar Chronicles series contained multiple POVs, unlike Cinder did, of what I remember. We had Cinder's – of course, Scarlet's, Kai's, Captain Thorne's and even one chapter from Queen Levana's point of view. With so many different events, plunging into a state of boredom was something impossible to achieve. But no one's complaining, *wink* *wink*.
Something else that appealed to me was the (swoon-worthy, handsome, charming, unforgettable…) male leads. I know Prince Kai was wonderful – even though a little too simple and banal, prince status aside – in book one, but I definitely saw a second side of him, more mature and serious and loyal in this read. If I wasn't convinced before, now I absolutely agree that he would make a great and honest leader that will only grow and rule with kindness and as much fairness as possible.
The only thing that could have been different is Scarlet and Wolf's love for each other. It did take time before they warmed up to one another, but, when they did, their sentiments did not gradually evolve from that point. In the contrary, like a rocket, it is as if whatever sparkled could not be controlled and, well, it did not feel realistic. Although, I can understand, this being a fairytale retelling, that some elements were rather embellished to a magical and dreamy point. On purpose or not, that I do not know.
Nonetheless, Scarlet deserves every single star I gave it!
*I did an exaggerated amount of statuses for this book; you can see them all HERE.