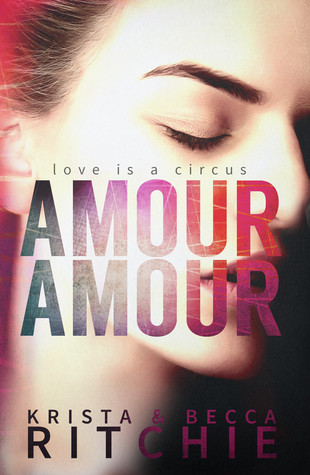 Amour Amour by Krista Ritchie
My rating: 3.5 of 5 stars
Received: bought
Publication Date: December 12th, 2014
Publisher: Indie
Point of View: 1st Person & Female
Genres & Themes: New Adult, Contemporary Romance, Family, Friendship, Circus, Hopes & Dreams
BLURB:
Love is a circus
"Every day," he says lowly, "I hold a person's life in my hands. The circus is based one-hundred percent off trust. I give it all to someone, and they give it all to me."
The best aerial technique won't land 21-year-old Thora James her dream role in Amour—a sexy new acrobatic show on the Vegas strip. Thora knows she's out of her element the second she meets Amour's leading performer. Confident, charming and devilishly captivating, 26-year-old Nikolai Kotova lives up to his nickname as the "God of Russia."
When Thora unknowingly walks into the crosshairs of Nikolai's after-show, her audition process begins way too soon. Unprofessional. That's what Nik calls their "non-existent" relationship. It's not like Thora can avoid him. For one, they may be partners in the future–acrobatic partners, that is. But getting closer to Nik means diving deeper into sin city and into his dizzying world.
Thora wants to perform with him, but when someone like Nikolai attracts the spotlight wherever he goes—Thora fears that she's destined to be just background to his spellbinding show.
This sexy and exhilarating New Adult Romance can best be described as Cirque du Soleil meets the steamy, athletic romance of Center Stage.
*standalone & no love triangles—recommended for readers 18+ for mature content*
REVIEW:
New Adult has never been my favorite genre. This book though proved me that there are some great ones out there only waiting to be sought. And, guess what? I found one. Maybe my rating will seem unfair, giving how I qualified this book to be, but, had it not stretched and stretched and stretched, it might have easily reached a four, four point five star rating.
The best thing about this novel was the set of characters – both principal and secondary ones. All of them sparkled in ambition, kindness, talent or beauty. And they will entertain the hell out of you! Timo, especially. I wish you'd know how endearing that boy was. Always ready to plaster a smile on your face. I just hoped he would be as important as the main ones, since I couldn't get enough of him. And you know what also turned out lovely about this story? The LGBT theme inside it. Barely developed, and only something like three scenes in which the couple showed affection, but it was there nonetheless and I know, by paying attention to the M/M couple's feelings and believing – feeling – what I was reading, that these two authors might have it to write an unforgettable M/M romance story. I hope this is something that will happen in the future. They NEED to at least consider it.
The heroine had the 'Resting Bitch Face' which made her seem, well, bitchy. She was also not that great of a gymnast since she not-so-gracefully failed the audition for the circus. But, you know what? Fantastic. She was flawed and I loved that about her. No one believed she would get the lead part in Amour and, yeah, they were right, because she didn't. But did that stop her from following her dream and passion? Hell no! She, as she kept on mentioning, was her only cheerleader. A character with such beautiful confidence is rarity and leaving everything behind because what she wanted and needed were not things she could find in her home town equalled pure risk-taking. But she did it! And following her path to success was something I did with pleasure…and time because horrible slow-pacing.
Nikolai, the Russian, tall, well-built and seducer love-interest annoyed me at first. We first met him in a quite unexpected scene and the outcome of that scene kind of, okay, really made me cringe my teeth. Hello, he tattooed and pierced people blindly! Who does that? With some self-thought experience, alright, but he could have injured Thora…when piercing her nipple. You heard right. Ouch. But, well, why not, right? She was in Vegas after all. That's definitely another thing that appealed to me: the setting. It's not every day that I get to read stories set in exciting and full of possibility places such a this one. So that was definitely interesting! They story could have used a LITTLE less romance though. But, hey, that is a complaining I keep making in my NA reviews so, perhaps, it is me that should accept that contemporary romance novels naturally contain romance here, there, everywhere.
You will certainly not find the kind of circus details and atmosphere that is present in The Night Circus, but you will find one filled with love, friendship, hope and…family.