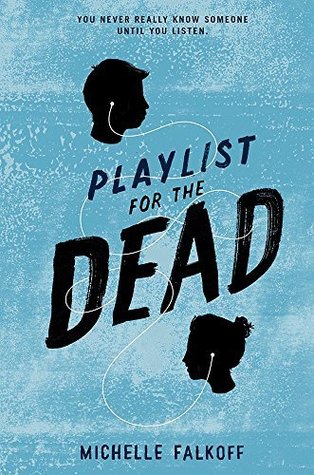 Playlist for the Dead by Michelle Falkoff
My rating: 3.5 of 5 stars
Received: Won
Publication Date: January 27th 2015
Publisher: HarperTeen
Point of View: 1st Person & Male
Genres & Themes: Young Adult, Contemporary, Suicide, Death, Love, Friendship, Music
BLURB:
A teenage boy tries to understand his best friend's suicide by listening to the playlist of songs he left behind in this smart, voice-driven debut novel.
Here's what Sam knows: There was a party. There was a fight. The next morning, his best friend, Hayden, was dead. And all he left Sam was a playlist of songs, and a suicide note: For Sam—listen and you'll understand.
As he listens to song after song, Sam tries to face up to what happened the night Hayden killed himself. But it's only by taking out his earbuds and opening his eyes to the people around him that he will finally be able to piece together his best friend's story. And maybe have a chance to change his own.
Part mystery, part love story, and part coming-of-age tale in the vein of Stephen Chbosky's The Perks of Being a Wallflower and Tim Tharp's The Spectacular Now, Playlist for the Dead is an honest and gut-wrenching first novel about loss, rage, what it feels like to outgrow a friendship that's always defined you—and the struggle to redefine yourself. But above all, it's about finding hope when hope seems like the hardest thing to find.
REVIEW:

Playlist for the Dead, however flawed, was a pretty gripping story. I found my curiosity increasing with every chapter, which is something that rarely happens to me with books. Usually, it is very much the contrary. I guess I was in the *right* mood for this kind of read today, because books dealing with mental health were never my favourites. Yet I do still read them, or I would tire of all the fantasy books I daily dive into. But this was good. Pretty good.
While it was a good kind of complex, original would not be the first adjective that comes to my mind to describe it. Sam and Hayden went at a party but things didn't go well. They had a fight and Hayden stormed out and made his way to his house raging with anger and, you will find out, embarrassment. The next day, Sam, wanting to check up on his best friend, finds him dead in his bed. Of course, he's bewildered, confused, angry! But Hayden left a list of 27 songs for Sam to listen to and try to understand why he decided to commit suicide.
It may sound like a relatively simple story or Thirteen Reasons Why (which I really enjoyed)-like, but Playlist for the Dead ended up being different from that novel, although having some similarities to it. In fact, I realized throughout the read that the list of songs could have been removed without damage…A *plus* to the plot I thought it was going to be but unfortunately turned out unnecessary since its importance was, hum, almost nonexistent. But that may have been just me refusing to check out the lyrics on the internet because interrupting my read was not an option. Plus, it was really the characters that, in the end, helped Sam understand; not the songs. Why I say that it lacked originality is because of everything that was around the main story. There were these guys that bullied Hayden, this girl that he met and kept secret from Sam (his best friend!) and those two sides of town (or were they two distinct cities?) – one *for* the poor, one *for* the rich. Those things, I was already familiar with each one of them. But I do understand that being original with stories dealing with suicide might be hard.
The plot didn't lack in events and intriguing chapters and also contained some mystery…which, yes, made me think of Thirteen Reasons Why because of how both heroes try to find the reason why someone they knew committed suicide with clues being given to them. It also felt like by all manner of means Sam had to uncover the truth or else he might not have understood, accepted and forgiven his best friend's death.
But, unlike what the ''many events'' might imply, it wasn't action-packed or fast-paced. It was a very psychological book, for a young adult audience, and contained a fantastical well-developed hero. Unlike the one from All the Bright Places (themed mental illness), Sam hid nothing from us! His thoughts were our thoughts and it was so easy to understand him and, I think, perhaps, even connect/relate to his character for some.
It's really the secondary characters, the romance which was beautiful but, at the end of the story disappointed me, and the originality that wasn't exploited as it sincerely could have been that keep me from giving this a five star rating.