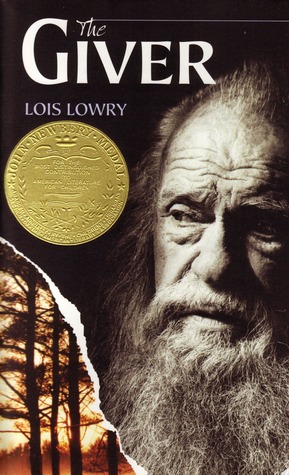 The Giver by Lois Lowry
My rating: 4 of 5 stars
Received: Borrowed
Publication Date: 1993 first published
Publisher: Ember
Point of View: 3rd Person & Male
Genres & Themes: Young Adult, Dystopia, Life, Family, Friendship
BLURB:
Jonas's world is perfect. Everything is under control. There is no war or fear or pain. There are no choices. Every person is assigned a role in the Community. When Jonas turns twelve, he is singled out to receive special training from The Giver. The Giver alone holds the memories of the true pain and pleasure of life. Now, it is time for Jonas to receive the truth. There is no turning back.
REVIEW:

Woah, I can easily understand why such a grand amount of people loved this book and definitely see why many were not satisfied with the movie. I cannot believe how many elements of this story they changed. However, there is something that I must admit: I preferred the movie because of how melancholic and hopeful it made me feel and for the suspense inside it that the book irrevocably lacked. It is not something that I hear myself say often at all. I have always been that little full of criticism girl who could not help but compare books to movies and movies to books. Quite a negative experience I tend to have with the latter. I mean, Red Riding Hood (trailer), starring Amanda Seyfried, was enticing! Reading the film-to-novel adaptation though felt like walking through mud – tiring, boring, and endless. Why I granted it a three star rating is beyond me.

Let's just put that aside though. After all, it is of The Giver that I shall talk about and my time spent reading the story was definitely not wasted – hence the four star rating – even if not what I anticipated. First, the hero was very young, a detail that I seemed to have forgotten before starting this read. Not a problem though, for Jonas showed an impressive and admirable maturity in his character. Even I, at twelve, and others around me at that time, were not as reflective, wise and…intelligent. Sure, math held no secrets from me, but I was not actually resolving problems for the greater good or aware of the true face of the world. As opposite as the situation and context definitely were, the fact remains that Jonas lead this story with greatness and, along the way, opened my eyes to some beautiful themes.

It shook me to witness how unimportant Fiona appeared and how no chemistry was palpable between Jonas and her. Apparently, they were friends through Ashen mostly, or at least that is what I deducted. Of course, they volunteered together but it is not as if they talked and shared moments like true friends normally do. Plus, we could barely see her because of how her presence was omitted. Ashen was definitely endearing in this while, in the cinematographic adaptation – I apologies for bringing it up again – I growled at him continuously.

This was another example of a book with fine simplistic writing. My first one, I believe, was Aristotle and Dante Discover the Secrets of the Universe. Then I discovered some others and familiarized myself with this type of writing. I am completely in favour of it since it can bring such a peaceful atmosphere to stories and make the reader easily understand every detail written. However, there is something that I unluckily often stumble upon when this style is present and this was no exception: repetition. But maybe it is easier to distinguish it since everything in the writing is clearer?
Even though I brought up an equal – or so it seems – amount of positive and negative elements for The Giver, I must let you know that the negative ones never bothered, annoyed or frustrated me. They were there, and I was aware of them, but never let any of those weaknesses keep me from enjoying my read. Because I did. So much.

PS. For a couple of minutes, I thought that I just read one of the first dystopian books ever written, but this list proved me the contrary.