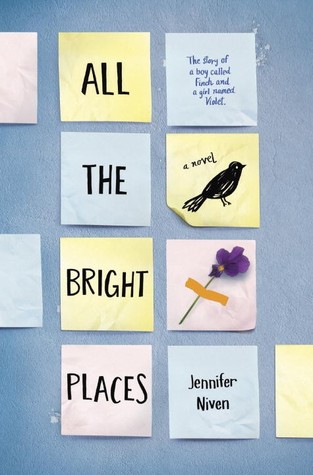 All the Bright Places by Jennifer Niven
My rating: 3 of 5 stars
Received: Bought
Publication Date: January 6th 2015
Publisher: Knopf
Point of View: 1st Person & Alternative
Genres & Themes: Young Adult, Contemporary, Mental Illness, Death, Romance, Friendship
BLURB:
The Fault in Our Stars meets Eleanor and Park in this exhilarating and heart-wrenching love story about a girl who learns to live from a boy who intends to die.

Soon to be a major motion picture starring Elle Fanning!
 
Theodore Finch is fascinated by death, and he constantly thinks of ways he might kill himself. But each time, something good, no matter how small, stops him.
Violet Markey lives for the future, counting the days until graduation, when she can escape her Indiana town and her aching grief in the wake of her sister's recent death.
When Finch and Violet meet on the ledge of the bell tower at school, it's unclear who saves whom. And when they pair up on a project to discover the "natural wonders" of their state, both Finch and Violet make more important discoveries: It's only with Violet that Finch can be himself—a weird, funny, live-out-loud guy who's not such a freak after all. And it's only with Finch that Violet can forget to count away the days and start living them. But as Violet's world grows, Finch's begins to shrink.
REVIEW:

Finch and Violet are two very different persons. She is popular, down to earth and is trying to please everyone. He's the ''Freak'', careless and doesn't know or acknowledge how the many things he does every day might hurt people around him. (Or maybe he does, and that is why he is lying to everyone about his deepest feelings, but I couldn't know for sure. Was there more to it, or just his personality?) Yet, they both have something in common: When at night, neither of them sleeps peacefully. Violet's sister died in a car accident, and she blames herself for it. A part of her knows it wasn't her fault…yet she can't help but think about all the ''If only I…''
Finch was the most complicated to understand, decipher. Since we're honest here, I actually didn't and that is one of the reasons why this book cannot get a higher rating from me. Some might think it is okay to not clearly apprehend all of our main characters' thoughts or his/her way of thinking but I really need that. Otherwise, the character in question will remain a mystery unsolved for me, and that would make me, as a reader, unsatisfied. That's how I feel about Finch. He's depressive, yet doesn't act like it – for the most part, not that there is a *way* of acting when you're depressive. He just…didn't convince me. Some might think that he's searching for attention, because of how crazy he acts sometimes, but that's not it. And that will never be it. But could I really tell you what the real problem is? I couldn't, even though I am aware of one of the – I assume – things that makes him unhappy. I could try to, but the thing is that he, as a main character, is not fully honest with us. He rarely tells us everything that is on his mind – except for Violet. Very rarely. There's always this mask he's wearing daily that hides his true emotions and, whenever that mask falls, the deepest truth that comes out of it shocks him and he puts it back again. Maybe that's not how you'll see him, but, unfortunately, that's how he appeared to me.
The writing was wonderful. I could recognize a little resemblance to the one in The Fault in Our Stars but very little, since that book is, for me, the best of YA contemporaries and my mind doesn't want to compare it to any other YA contemporary book. But let's go back to this novel, it had also much originality. I admit that some settings were too overused, but there was a variety of them, so that helped. Also, while I liked the plot, and I did – really, it did stretch too much. The first part, when Finch & Violet slowly got to know one another, was sweet but, when they became lovers, my interest wandered around and tried to anchor itself on something else, because I really wanted this to be more than a romance novel. And it is! Thank god it is. However, Finch & Violet's relationship was not that different from other YA books with *broken* characters or ones searching for something to brighten up their lives.
There were some secondary characters but they looked as if, if the main characters aren't interacting with them, they do not exist or are easily forgotten. Sincerely, Charlie, Finch's best friend, had potential to be an exception to the rule, but his humour that was introduced at the beginning of the story disappeared later on.
Many will probably find this book to be beautiful – it was – and breathtaking and with reason. And that is why I would recommend it; I think we will all see it differently, maybe depending on our past experiences or the type of people we're close to. Really, this is the kind of story that I will even recommend not reading reviews for before picking up. Now, my mentioning of this at the end of this review was
not pre-planned. *wink*
PS. Virginia Woolf has just rocketed at the top of my TBR pile. The many quotes of hers that were included in this read had my complete attention.
XOXO,
LOLA