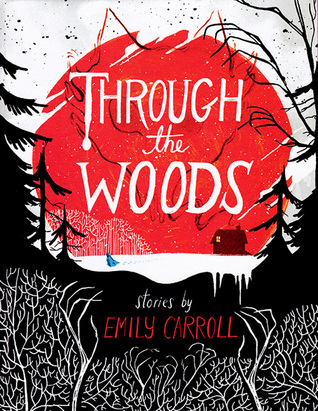 Through the Woods by Emily Carroll
My rating: 4 of 5 stars
Received: Borrowed
Publication Date: July 15th 2014
Publisher: Margaret K. McElderry Books
Point of View: –
Genres & Themes: YA, Horror, Fairy Tales, Short Stories, Graphic Novel
BLURB:
'It came from the woods. Most strange things do.'
Five mysterious, spine-tingling stories follow journeys into (and out of?) the eerie abyss.
These chilling tales spring from the macabre imagination of acclaimed and award-winning comic creator Emily Carroll.
Come take a walk in the woods and see what awaits you there…
REVIEW:

Goosebumps. Full of them. Reading this horror filled graphic novel during night-time turned out to be a terrifying idea. Yet, I couldn't stop reading. It was captivating. I don't think I've even noted a single thing of my environment while reading it; there was only the book and I.
There were five short stories in this book. All of them contained a spooky or completely frightening plot that will keep you on the edge. The author also managed to include suspense in the atmosphere. However scary the story or characters might have appeared, there was no possibility for me to interrupt my own reading. The stories were short which means that never was I bored or waiting for something interesting to happen. It's not often that I take the time to read and admire graphic novels and there are multiple styles of drawings that I am still not used to, but this is one I found uniquely beautiful and would gladly see more of.
The writing was simplistic but, sincerely, it worked with every single thing. Plus, it is really on the illustrations – which were amazingly vivid and arresting too – that I was concentrated on and did not, as I usually do, have the reflex to observe and wonder if the author used repetition as well as some figures of speech from time to time.
My own personal favorite was 'A Lady's Hands Are Cold' since, at first, I thought it to be a retelling of 'Bluebeard' and was curious to see which path the story and main character will take. Plus, the author noticeably surpassed herself with the graphics in that short story in question.
It is true that I found this graphic novel to be one of the best I have ever read, for how monopolized by it I was the whole reading time, but there is something that displeased me inside it: every short story ended on a cliffhanger. Now, that was frustrating. At first, I thought maybe I was missing something but then it happened again. And again. Every time. Maybe some will not mind it, but by how dark the endings were, I did not approve of the hypotheses my mind was making for the characters.
This is one graphic novel I highly recommend to every fan of dark fairy tales and graphic novels with eerie ambiences. A truly too short for my liking book, but impressive nonetheless.
PS. How am I ever going to be able to sleep tonight? I have to get my head off worms, wolves, ghosts, hair-raising monsters hiding under the bed…