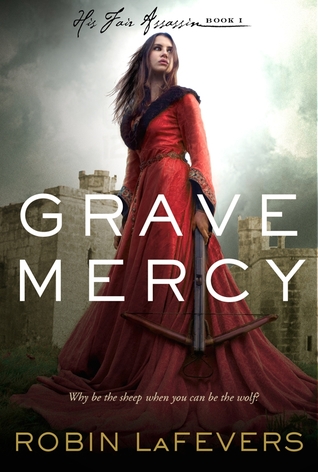 Grave Mercy by Robin LaFevers
My rating: 5 of 5 stars
Received: NetGalley
Publication Date: April 3rd 2012
Publisher: Houghton Mifflin Harcourt
Point of View: 1st person & Female
Genres & Themes: YA, Historical, Fantasy, Assassins, Secrets, Plotting, Romance, Friendship
BLURB:
Why be the sheep, when you can be the wolf?
Seventeen-year-old Ismae escapes from the brutality of an arranged marriage into the sanctuary of the convent of St. Mortain, where the sisters still serve the gods of old. Here she learns that the god of Death Himself has blessed her with dangerous gifts—and a violent destiny. If she chooses to stay at the convent, she will be trained as an assassin and serve as a handmaiden to Death. To claim her new life, she must destroy the lives of others.
Ismae's most important assignment takes her straight into the high court of Brittany—where she finds herself woefully under prepared—not only for the deadly games of intrigue and treason, but for the impossible choices she must make. For how can she deliver Death's vengeance upon a target who, against her will, has stolen her heart?
REVIEW:

''So,'' she says, looking back at me. ''You are well equipped for our service.''
'Which is?''
''We kill people.''

Everything in this fantasy book approaches perfection.
Maybe I have been bewitched, compelled, but, when I think of this novel, the word ''masterpiece'' is the first one that comes to my mind. Historical and fantasy make delightful mélanges when the two of them are present in a novel. The story may not have been of the same rare quality as Clockwork Angel, for example, but there is something fascinating about those two genres combined nonetheless.
Sometimes, there are authors that make us 'think' and try to 'convince' us that their heroine is special when, in fact, she is nothing more than another lucky chick. In this case though, Ismae really was one of a kind and the generalisation above does not include Robin LaFevers. And, when I say that she appeared different and powerful, I do mean it. For instance, Ismae's body possessed immunition againt poison. No poison on earth was to kill her. Also, she could talk to souls. Needless to say, no body risked outmatching her. Which was not only exciting but also refreshing. I was so tired of whiny heroine that always need their knight in shining armour to rescue them.
I saw countless reviewers complaining about the pacing. I am not going to dare say that it was nothing but fast – since that would be a lie, but, to me, there was no 'slowness' really. And that because 1) I was strongly hooked, 2) enjoyed the writing so much – very well adapted to the context and century by the way and 3) in every chapter, there was something new, a different scene which made sure that I was never tired of seeing the same characters over and over again or perhaps fear boredom. But, if the story does not appeal to you from the beginning, I am sure you will find this long and endless.
She leans forward then, as if eager to tempt me with what Mortain offers. ''If you choose to stay, you will be trained in His arts. You will learn more ways to kill a man than you imagined possible. We will train you in stealth and cunning and all manner of skills that will ensure no man is ever again to threat you.''

The characters, primary and secondary ones, were not always 'unique' but they had personality! Of course I had read about many duchesses and men plotting marriage for power and wealth, but those personages being included in this plot, along with everything aside – magic, secrecy and an ounce of mystery – brought the banal situation of scheming to a new level. And a most unsettling one, may I add, for I had no idea what would happen in the end and who will have to die for the situation to be resolved.
One thing I do not seem to read often about is assassins. Not because they are not at the top of my fantasy professions list; it's just that I don not choose reads in purpose for the story to contain some. If there are, then fantastic! But if none are included, then I will not interrupt my read or skip the book because of it. I admit though that the last assassin book I had read did not appeal to me. It was Midnight Thief and, that one specifically, I stopped reading when I started being annoyed of the romance taking to0 much importance and the heroine risking to go on the path I feared she would take. None of that in this, however! Only fierce, talented and conscious of their missions assassins that might very likely surprise you were featured. And, let's not forget, they were girls. A lovely plus *wink* *wink*.
Why this book was not one hundred percent perfect was due to Gavriel, the love-interest. Don't get me wrong, the romance had everything I hoped for – slow-burn, love/hate – but Gavriel was a little too controlling for my taste. He ordered Ismae around a little too often. I assumed he did not realise he was doing it throughout the story, but it does not change the fact that he could have been looser toward her.
''What if I say no?''
''Then you will be taken far from here and given to a kind, gentle man in need of a wife.''
''If you think I am fit to serve, Reverend Mother, I will do so gladly.''

If you are a lover of historical + fantasy + romance stories with a religious vibe, then this is the series for you!