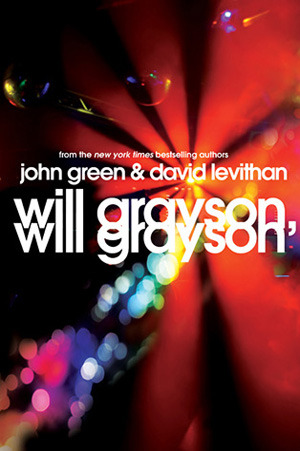 Will Grayson, Will Grayson by John Green
My rating: 3.5 of 5 stars
Received: Borrowed
Publication Date: April 6th 2010
Publisher: Dutton Books
Point of View: 1st person, Male & Alternative
Genres & Themes: YA, Contemporary, Romance, LGBT, Humour, Friendship, coming-of-age, Family, Music
BLURB:
Will Grayson meets Will Grayson. One cold night, in a most unlikely corner of Chicago, two strangers are about to cross paths. From that moment on, their world will collide and Iives intertwine.
It's not that far from Evanston to Naperville, but Chiacago suburbanites Will Grayson and Will Grayson might as well live on different planets. When fate delivers them both to the same surprising crossroads, the Will Graysons find their lives overlapping and hurtling in new and unexpected directions. With a push from friends new and old – including the massive, and massively fabulous, Tiny Cooper, offensive lineman and musical theater auteur extraordinaire – Will and Will begin building toward respective romantic turns-of-heart and the epic production of history's most awesome high school musical.
REVIEW:
Two teenagers, both named Will Grayson, coincidentally meet at a much unexpected place.
And their life will never be the same again.

One is shy and doesn't want to be in a relationship. The other has depression and seeks love…in Isaac. But, is finding love on the internet the right thing? Could it be that Isaac may not be who he claims to be?
It was an emotional but also full of life read. Containing the kind of atmosphere that can make you smile but also cry at the very same moment.
The two main main characters, and narrators, are different in almost every way from one another. Yet, the fact that they were two opposite persons, made it interesting to read about each one of them and comparing them. While it was inevitable to do such thing, the results were surprising.

The fact is, I can't even admit who I preferred for they were, both, likable and had this character development that is more than well thought of. We can see it coming yet it still is impressive and welcome.
Tiny is also a main character but not a narrator. He is actually the reason why Will Grayson #1 and #2 have a character development in the first place. He may seem to you full of himself at first (…and he kind of his) but you will absolutely learn to adore him. To say that he is important in the story is an understatement.

Sincerely, I thought the romance was not captivating. It was just…banal. Sure, there are cute moments that will make you smile and sigh but they're not breathtaking or what I call original. It is a main theme of the story, but I am now talking about the romantic one and, except for this latter, there are some others that are incidentally included. It is certainly not like not being hooked by the romance will keep any one of you from enjoying this read.
The plot was quite simple but effective and even unique! I mean, rarely do I read about LGBT + drama (as in real drama) + gay and straight guy being best friends. It was enjoyable but unfortunately very slow. You see, even the writing is fantastic but, the fact that it is so slow (and I mean it) does keep me from giving it a higher rating. I did like this book but there are some scenes that do drag and could have been shortened.

It's quite some reading experience, this Will Grayson, Will Grayson book. It has a lot of humour, a special one though that may only appeal to some potential readers, and it also contains these sentences that will make you take a short pause and think a little about them. Probably asking youself: "What is the author aiming for by writing that?" And it makes you dig deeper to find the phrases in question's significance. Which I loved. Reading books that make you think are the ones that you'll remember after, at least in my opinion.
Absolutely recommended! As an advice, don't even look at the rating, if you're the kind that is discouraged by a 3 1/2 star one. I liked it, would read it again but, when having much time, since it is a slow-paced story. To wrap up, great characters, unsurprising romance, wonderful themes, vivid atmosphere, slowness, not complex but unique plot still and an unforgettable read!

Art source.