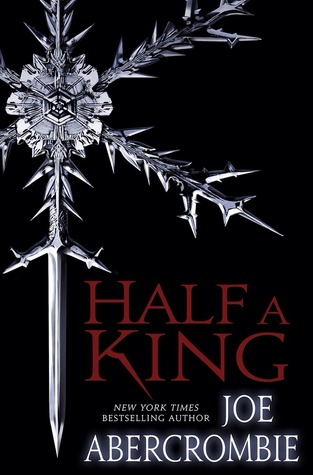 Half a King by Joe Abercrombie
My rating: 3 of 5 stars
Received: Borrowed
Publication Date: July 15th 2014
Publisher: Del Rey
Point of View: 3rd Person & Male
Genres & Themes: YA, Epic Fantasy, Adventure, Kingship, Betrayal, Friendship.
BLURB:
"I swore an oath to be avenged on the killers of my father. I may be half a man, but I swore a whole oath"
Prince Yarvi has vowed to regain a throne he never wanted. But first he must survive cruelty, chains and the bitter waters of the Shattered Sea itself. And he must do it all with only one good hand.
The deceived will become the deceiver
Born a weakling in the eyes of his father, Yarvi is alone in a world where a strong arm and a cold heart rule. He cannot grip a shield or swing an axe, so he must sharpen his mind to a deadly edge.
The betrayed will become the betrayer
Gathering a strange fellowship of the outcast and the lost, he finds they can do more to help him become the man he needs to be than any court of nobles could.
Will the usurped become the usurper?
But even with loyal friends at his side, Yarvi's path may end as it began – in twists, and traps and tragedy…
REVIEW:

There were four parts in this epic fantasy story. The first held little interesting scenes and turned out to be quite banal for nothing surprising happened. We were introduced to the main character and his family, which was good, but, really, other than that it was the basic king-died-needs-replacement-hero-becomes-king-marriage-betrayal and everything felt really flatly executed. The second part though was different and original. In each part, actually, we met new characters. There were in fact many of them. However, when I looked up the definition of the 'epic fantasy' genre, I read info about there being normally a wide cast of characters so perhaps it will not surprise readers of the genre. The third part was sadly very slow and, sincerely, repetitive. Or it could be that it felt that way to me because nothing of importance really happened. The forth and final part was good and I was glad to get to it, so I could finally witness how everything was going to turn out.
Strangely, after finishing this read and thinking back to it, I honestly would have seen this book making a good standalone. But I agree that there was this 'High King' character that we HAVE to meet, for he was mentioned many many times but not included in any scene.
It was well-written. Really well-written. But, sometimes, it felt like too much. Why I'm saying this is because there were many figures of speech as in an annoying amount of them. It's obviously okay to have some for it usually embellishes the writing and the plot itself (like in The Kiss of Deception – gosh I loved that book) and everything but too much is like not enough. I think it could have been more balanced.
Also, there were some quite beautiful or intelligent lines such as: ''Why kill what you can sell?'' , ''You may need two hands to fight someone, but only one to stab them in the back.'' , ''I may be half a man, but I can swear a whole oath.'' or ''A warrior fights. A king commands.'' And that was great. But, the thing is…those lines were repeated and repeated and repeated again in the chapters as if we would forget them. Which we would not have, because they're perfect. The atmosphere…felt tedious from time to time.
Yarvi was a great hero. At first, we saw him befuddled and not really knowing what to do. He was a king. Yet he was no king. And so his character growth – which was the most important element in the story for me – turned out admiring and needed. And the author pulled it off wonderfully well. But a bit too fast. After being sold as a slave, it's as if he changed in a single night of comportment and having suddenly new clear goals (which, that, was understandable even though rushed). The whole thing could have been more realistic.
Oh, yes, that was another problem I had with the story and plot. While I did like it and think the book to be a good epic fantasy read, this as a whole was indeed quite unrealistic. I mean, Yarvi should have died…what? Three, four times? Yet, every time, something/someone saved him. And that's fine, really! It's not like I wanted him to actually perish! The lovely Yarvi, oh no! But it was as if those scenes were missing something that would have made them truly believable nonetheless. At least, there was an element of surprise in each one of them.
Honestly, I had very high expectations for this. Many of my Goodreads friends told me about it and kept recommending it to me and so, finally, I had to read it. And I don't regret it. Maybe I should not have pressured myself (here's the thing: I want to read as many books published in 2014 as possible before the end of the year *coughs* one day from now) and lowered the quality of my predictions. I do recommend it, though! Yarvi deserves to be known.
PS. There is no romance!