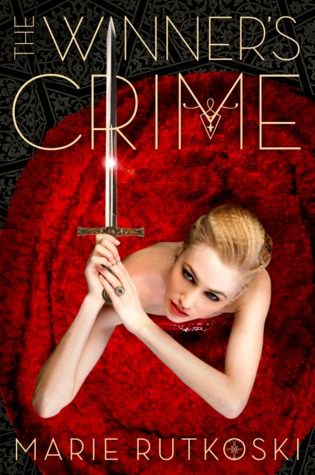 The Winner's Crime by Marie Rutkoski
My rating: 3.5 of 5 stars
Received: NetGalley
Publication Date: March 3rd 2015
Publisher: Bloomsbury Publishing Plc (UK & ANZ)
Genres & Themes: YA, High Fantasy, Romance, War-setting, Conspiracy, Secrets, Betrayal, Family.
BLURB:
Book two of the dazzling Winner's Trilogy is a fight to the death as Kestrel risks betrayal of country for love.
The engagement of Lady Kestrel to Valoria's crown prince means one celebration after another. But to Kestrel it means living in a cage of her own making. As the wedding approaches, she aches to tell Arin the truth about her engagement…if she could only trust him. Yet can she even trust herself? For—unknown to Arin—Kestrel is becoming a skilled practitioner of deceit: an anonymous spy passing information to Herran, and close to uncovering a shocking secret.
As Arin enlists dangerous allies in the struggle to keep his country's freedom, he can't fight the suspicion that Kestrel knows more than she shows. In the end, it might not be a dagger in the dark that cuts him open, but the truth. And when that happens, Kestrel and Arin learn just how much their crimes will cost them.
REVIEW:

Oh la la, well that was unexpected. This sequel is darker, deadlier, less focused on the romance and containing a delicious addition of conspiracy and secrecy. A beautifully surprising change in the plot and its atmosphere.
Kestrel has it in her to rule a country. She is intelligent, fierce, full of courage and never recreant. Now, her abilities are not only evident and admired but necessary. She will marry the prince of Valoria and no one will stop this event from happening. That is what has to be done. In everyone's best interest. But…is it, really? Kestrel's character is such an easy one to love. Her voice is one people listen to, and I found myself doing the same. She's the kind of hero others rely on and the author did a fantastic job in making her a memorable one. However, what I found unfortunate for her character and it can even stretch to the plot itself, is how she doesn't seem to have anyone on her side. Not really. I mean, there's a hint of trust here and there, but we can see how everything she does, she does it by herself and with her own determination. Some advisement can be given to her, but nothing that will put the other person in a delicate or vulnerable place.
Indeed, as I swiftly mentioned, there is less romance…but there still is some. Which is definitely not bad. This book would be half its own size if the matter of heart were not involved. And that leads us to Arin. Arin, sincerely, is a character I have always disliked. Not hated, not despised or loathed, just a person I very often found myself growling at and (mentally) shooing away. Aye, his personality has never appealed to me. Do you remember how he was a 'slave' in book one? I'm using quotation marks because, hey there *wake up call*, the guy acted like a prince. As if he owned the place. And that, well, hasn't changed here. It is much more adapted to the context, for sure, but his behaviour and the things he does, oh dear, it will not please many.
I don't remember if the first book had such a slow pacing too. This is a very slow read. The kind of slow that, even if you're trying to read faster, it will not let you. Like there's a barrier at every coma that obliges you to make a pause. Personifications we have there, but it was all to say that this is a book you have to take your time with. But, you know, I wasn't actually bothered by its slow pacing. Sure, at moments, I wanted it all to go faster because of how excited I was to learn some things and know what was to happen next but, overall, I dealt with it nicely and got used to getting introduced first, then led slowly and finally put in front of the evidence, subject, matter. While there may not be extraordinary plot twists, the course of events holds multiple *consequences* to some situations and characters that are interesting to witness.
Could it be that this is better than The Winner's Curse? Well, for me, it is the absence of overwhelming romance that made the reading more enjoyable. For that, I think many will prefer this continuation, but the ever-present frustrating scenes that this book contains – ones that, even though you are watching and hoping they will not turn out the way you know they will, you can't change their outcome – make that this book, on the love meter, is at the same percentage as the first. Which is okay, because they are both good reads.