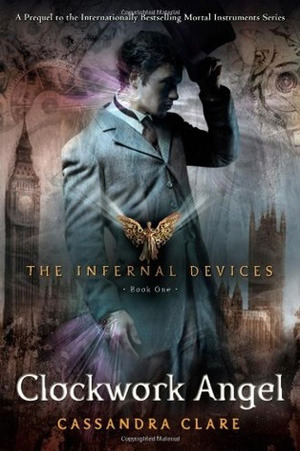 Clockwork Angel by Cassandra Clare
My rating: 5 of 5 stars
Received: Bought
Publication Date: August 31st 2010
Publisher: Simon & Schuster, Margaret K. McElderry
Genres & Themes: YA, Historical Fiction, Fantasy, Vampires, Demons, Witches, Conspiracy, Steampunk, Dark, Friendship, Romance
BLURB:
In a time when Shadowhunters are barely winning the fight against the forces of darkness, one battle will change the course of history forever. Welcome to the Infernal Devices trilogy, a stunning and dangerous prequel to the New York Times bestselling Mortal Instruments series.
The year is 1878. Tessa Gray descends into London's dark supernatural underworld in search of her missing brother. She soon discovers that her only allies are the demon-slaying Shadowhunters—including Will and Jem, the mysterious boys she is attracted to. Soon they find themselves up against the Pandemonium Club, a secret organization of vampires, demons, warlocks, and humans. Equipped with a magical army of unstoppable clockwork creatures, the Club is out to rule the British Empire, and only Tessa and her allies can stop them….
REVIEW:

When people ask me "Who is your favorite author?" I never know exactly what answer to offer. I very much enjoy reading L.J. Smith's books. But C.S. Pacat is my favorite M/M author! And let's not forget how amazing J.K. Rowling's Harry Potter series is. Oh, and have you heard of Kiera Cass? She wrote such a swoon-worthy love story! And Eliza Crewe, Leigh Bardugo, Laini Taylor and Marissa Meyer are all new favorite authors of mine.
Nonsense. No need to be torned ever again.
Cassandra Clare…is, to me, an incredible and worth knowing author. She seems to be possessing such an overflowing with imagination and ideas and originality mind. And she simply knows how to create endearing and filled with chemistry relationships, romantic or not. Plus, you know how sometimes you read scenes in a book and you feel like they aren't clear or so poorly contextualized that the author's words are sadly hard to follow? Well that never happens with this author. And, hell! she switched from urban fantasy to historical fiction + fantasy + steampunk with perfection!

It's crazy, so to speak, how interesting I find her characters to read about. They're not just fantastically created and developped beings. They're always more than that and, often, they will reach out to the deepest parts inside you…and make you realize some things you never have before and open your eyes on others. I don't know how she does it. What I do know though is that she has a great talent and that is something I very strongly believe and will not let someone convince me on thinking otherwhise. It's how it should always go, anyway. You appreciate, admire, love or even crave something? Don't let anyone destroy that feeling. Because it is true and powerful.

I fervently and judiciously thought about it and…I did not quite prefer this impressive series to The Mortal Instruments one. You see, I simply think that they're both very different stories. This one, for instance, contains a variety of new original characters and elements that we do not see featured in the other series…and that's great. I mean, I LOVED this book. But, I still am deeply smitten with Alec & Magnus as a couple and this beautiful couple in question is (unfortunately yet understandably) not present in Clockwork Angel. Magnus Bane is in fact my all-time favorite book character (which one is yours?) Certainly, this book gave me some background story on him and made me learn new things about his character, but he still is more present in The Mortal Instruments nonetheless which is something that I cannot forget. (Very awe moment from this book: Remember when Magnus says: "Black hair and blue eyes are my favorite combination." That…drives you right to Alec Lightwood. It earnestly made me sigh with love and contentment.)

Oh Jem, Jem, Jem…isn't he a lovely, swoon-worthy character?
All beautiful art works were taken here.