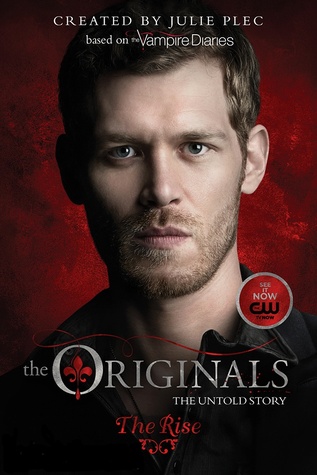 The Originals: The Rise by Julie Plec
My rating: 4 of 5 stars
Received: NetGalley
Publication Date: January 27th 2015
Publisher: HQN Books
Genres & Themes: YA, Historical, Fantasy, Vampires, Werewolves, Witches, Family, Conspiracy, Romance.
BLURB:
Family is power. The Original vampire family swore it to each other a thousand years ago. They pledged to remain together always and forever. But even when you're immortal, promises are hard to keep.
Arriving in New Orleans in 1722, Original vampire siblings Klaus, Elijah and Rebekah Mikaelson believe they've escaped their dangerous past. But the city is lawless, a haven for witches and werewolves unwilling to share territory. The siblings are at their mercy…especially after Klaus meets the beautiful and mysterious Vivianne. Her impending marriage is key to ending the war between the supernatural factions—and Klaus's attraction to her could destroy the uneasy alliance. As Elijah works toward securing a piece of the city for his family, and Rebekah fights her unexpected feelings for a French captain, will Klaus's volatile desires bring their world crashing down—and tear them apart for good?
REVIEW:

''You may be closer than ever to finding us some quaint little hovel, brother, and Rebekah may still win us an army. But I'm building us an empire.''
– Klaus

I loved this book. And, believe it or not, it is not only because of the fascinating and worth analyzing anti-hero that is Klaus. Although, it is relatively a challenge to analyze someone that is already analyzing everyone and everything. Reminds me of how Holden, from The Catcher in the Rye, does that too, throughout the book. Klaus and Holden couldn't be more different – can't believe I'm actually comparing them – but they do both have this habit, that comes naturally, to observe others and unravel them as greatly as they can. Which is interesting and indeed one of the reasons why Klaus has always been the one holding my attention the most among the Mikaelson family members. Don't get me wrong, Rebekah and Elijah are amazing, but Klaus is the *star* for me.

However, even though Klaus was my favorite character in this, I preferred much more following Elijah's adventure. See, the story starts off with them together, at a private party and, after, they all go their own way in search of something. Klaus sticks around, *bewitched* by Vivianne's (half-werewolf, half-witch) charms and looks and is trying to conquer her. Rebekah made it her mission to seduce the French captain but finds herself in a more vulnerable place that she expected. And Elijah, the sweet sweet Elijah, is in search for a house for them to live in and so encounters interesting people in his way. But, honestly, I think I enjoyed his chapters more because they were the only ones that weren't so melodramatic (not that I hated the others). Basically, it made a beautiful contrast of atmosphere. Still, every point of view was interesting because of how different from one another they were.

Julie Plec definitely got the characters' personality very well, unsurprisingly, since she is the creator of the TV show. I will not call myself an expert of the Originals, but I certainly could feel that the ones on the screen matched the Originals in the book. And then, by doing that, I realized that those people never changed. Rebekah, as you know, falls in love too quickly and is the 'moderator' of the family – she keeps it from falling apart, Klaus seeks love too and makes it all sound like he just found his 'soul mate' (huge insta-love) while, let's face it, the guy only loves getting what is forbidden. And Elijah still has the role of going after what they fundamentally wanted in the first place, in this case a house, when arriving in the New Orleans. That's mostly what made me love this book so much: I can never get enough of these *original* characters. Although, at the end of the book, there is something Klaus did that I frowned at, because I just know that Klaus would not have allowed that to happen but, well, perfection in characterization is rare.

While I did not fall in love with the writing, I thought it was suiting the historical context and characters well. I liked her style, so it was also pleasant to read, truthfully, and, if I had to change something, it would only be the past perfect tense often used that made my teeth cringe due to the repetition of the verb *to have.* Had. Had. Had. Had. It got distracting. But that's personal and, fortunately, not throughout the reading. It may not even bother you at all. I'm just not used to it, I guess. Besides from the writing and an unexpected event – more like decision – that took place at the end of the story, I don't know what to say else on the negative part. Sincerely, this book was entertaining and hooking. I couldn't stop reading and was delighted to hear more about some of my favourite TV characters – Klaus, Rebekah and Elijah.
Fans of the TV show will love this!