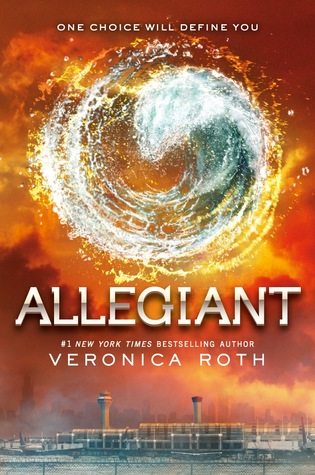 Allegiant by Veronica Roth
My rating: 2.5 of 5 stars
Received: bought
Publication Date: October 22nd 2013
Publisher: Katherine Tegen Books
Genres & Themes: YA, Dystopian, Romance, War-setting, Friendship, Secrets.
BLURB:
The faction-based society that Tris Prior once believed in is shattered–fractured by violence and power struggles and scarred by loss and betrayal. So when offered a chance to explore the world past the limits she's known, Tris is ready. Perhaps beyond the fence, she and Tobias will find a simple new life together, free from complicated lies, tangled loyalties, and painful memories.
But Tris's new reality is even more alarming than the one she left behind. Old discoveries are quickly rendered meaningless. Explosive new truths change the hearts of those she loves. And once again, Tris must battle to comprehend the complexities of human nature–and of herself–while facing impossible choices about courage, allegiance, sacrifice, and love.
Told from a riveting dual perspective, Allegiant, by #1 New York Times best-selling author Veronica Roth, brings the Divergent series to a powerful conclusion while revealing the secrets of the dystopian world that has captivated millions of readers in Divergent and Insurgent.
REVIEW:
(Success! I actually managed to write this review without including any spoiler! WOW.)


WHAT. JUST. HAPPENED? Oh boy. While I was (very straightforwardly) spoiled, a part of me did not want to believe what I had been told. I mean, come on…no way Veronica Roth could have done that. But, you know, before starting this intense read and just after finishing Insurgent, I did not believe that I could ever hate this because of how dear the characters became to me, especially Tris. Lucky me, I did not end this on an 'I-want-to-throw-you-out-of-the-window-like-We-Were-liars' note. Well, of course, so many things internally frustrated me but, overall, I still think that this is a book worth reading if you're a fan of the series. Although, I do sadly feel like burring myself under Divergent now, a book that was oh so fantastic! and UNPUTDOWNABLE, contrary to this one.
First off, the writing. It was good! But… did the author re-read her book after finishing writing it? Were there editors? Because, sincerely, I cannot believe they let this being published with the SO MANY repetitions. It was ridiculous how often the author re-used word after word after word. I really don't mean to disrespect her but, sincerely, she could have searched for some synonyms, perhaps? I didn't act crazy and actually count, but, approximately, the verb 'to say' was repeated 1000+ times in this final book. I tried to make abstraction of it, so it didn't ruin my reading experience (more than the uneven pacing already did) but it was do damn evident the author didn't pay attention to not overuse words. It did bother me, obviously but, at the same time, I'm now telling myself that maybe she was so 'into' the story while she wrote it that words just came to her and she went with the flow. I know I'm contradicting myself, but I like trying to see some positive too and not just focus on the negative parts. Also, she did have beautiful comparisons. She could have used more figures of speech but the ones she did create were satisfying.
Second, I didn't mind the pacing. Yeah, it was uneven yet mostly slow, but it strongly matched the plot – even though this latter was barely present. The atmosphere was palpable and the story did swallow me whole. Because I LOVE this series. And I needed and wanted and craved to know what was going to happen next. I was disappointed, indeed, but, like I implied, I don't regret reading this. It's a shame though that there weren't more action scenes because Veronica Roth is truly great at those. It's a shame too that not more interesting and detailed settings were present since she knows how to create those as well. You see, I just think this lacked. It had much much potential, but I feel like what I wanted and what the author wanted were two allergic to one another things.
Next, the characters. Oh, no real problem there. I mean, they were (the main ones) all present in the plot: Tris, Christina, Four, Peter, etc. Which was relieving because I really wanted to read about them all again before the end of the series. And the author did not disappoint there. Where she did disappoint though was in the characterization. Hmm, every character or so experienced some growth or some real sad personality change. As in they lost faith or courage or motivation. That saddened me, but there weren't a high number of those characters in question so bearable. Four acted quite strangely from time to time though. It's like one minute he was all serious and the other weirdly joking around when not the right time to or even necessary. Too much stress was what provoked that? Maybe. Am I finding excuses for him? To see.
Sigh, while I was reading, I marked so so many pages so I can put on here some quotes that would support my points, but I don't feel like transcribing them. It's really a book that made me feel a lot of emotions and I just wanted to write this review while I was still in the OMG-I-just-finished-Allegiant stupor without any break to go through the quotes selected. Perhaps I will include them another time.
Honestly, ever since I finished book 1, I couldn't stop thinking about what a beautiful and true relationship and love story Tris and Four have. So imagine my reaction when I saw them fighting so much in this. And when they weren't arguing, it's like there was always something that made them doubt the other and just…drift them apart. At least, that's how I took it all. For you, it may only be a normal thing in this kind of situation, but a part of me kept thinking of book 1 while reading and witnessing Tris and Four's interactions with one another. And, yes, definitely, Four will always be Four to me. Not Tobias. Never Tobias. It's a nice name too…but Four is such a more powerful and meaningful one, to me.
Let's end this on a bright note (because, well… the series does deserve it): New characters! Oh, I loved them! They were interesting! Mostly, they were enemies, but, hey, we need villains too. Can you believe that I actually liked Eric A LOT? Yeah, I do need villains.
What did you think of this one? Did it somewhat disappoint you too? Were there things you ended up enjoying about it anyway, as I did?