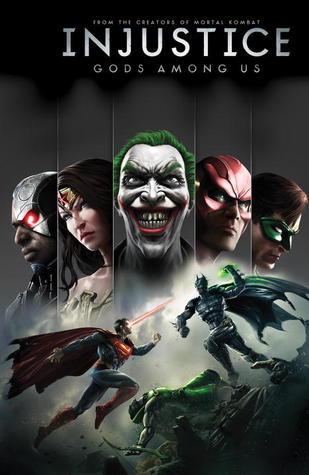 Injustice: Gods Among Us, Vol. 1 by Tom Taylor (Goodreads Author), Jheremy Raapack (Illustrations), Various (Illustrations)
My rating: 4 of 5 stars
Received: bought
Publication Date: November 19th 2013
Publisher: DC Comics
Genres & Themes: Adult, Comics, Superheroes, Superman, The Joker, Batman (okay, so those are not really genres, but they ARE pretty important characters ^_^), Romance, Action
BLURB:
From the makers of Mortal Kombat comes the critically acclaimed prequel comic to the smash hit fighting game Injustice: Gods Among Us!
Things in the DC Universe have changed after Superman is tricked into destroying the one thing he loves the most. Now unwilling to let crime go unpunished, the heroes of our world must choose if they are with Superman or against him. But not every country will submit to his new world order and neither will Superman's greatest threat—Batman!
Collects #1-6 of Injustice.
REVIEW:
Why…why don't I read comics more often?! This has been recommended to me ages ago, and I should have read it right away!
Because it was AMAZING.
When I was eight years old, I did read some comic issues with Spiderman featured since my brother owned some and loved them all. (My brother doesn't enjoy reading so seeing him with his head in a comic had woken my curiosity.) Other than that, I've read this Ms. Marvel, Vol. 1: No Normal comic. But, really, I had NEVER read about the Joker, Batman, Wonderwoman, The Green Lantern and some more of these awesome heroes all at once!
I was glued the whole reading time to the story, characters and especially the dialogs, which were funny AND witty! They had a lot of seriousness in them, while being somewhat moderately dramatic and laugh-worthy.
I loved every character, I really did. My favorite was Harley Quinn though. She's kickass, entertaining, beautifully drawn and has a cute naivety in her personality. I hope you're not going to judge me for this…but I had no idea such character existed before. Is she the Joker's girlfriend? Who are her parents? Is she a sort of clown too? I had no idea before and still haven't answered all of my own questions yet, but I definitely loved reading about her.
There's really everything you could ask for in a comic: action, romance, entertainment, drama, graphics that have style and most importantly a plot that not only makes sense but is also well thought of! There's also death.
Not much, but there's one character I found so endearing that died. And that is what keeps me from giving it five stars. I usually try to roll with the story and accept things like these (currently reading Allegiant so you can imagine my struggle) but THAT character 1) didn't deserve to die and 2) could have been saved. She really could have. I believed.
Why do comics have to be such fast-reads? she asks half-serious. I barely spent 20 minutes reading this! That's refreshing since I usually read novels that take me hours and hours, but there's also the fact that it all ends too quickly. This is not a complaint, just a quite loud observation, I guess. heh
Also: Superman has real DARKNESS and VENGEFULNESS inside him. Nicely played, very nicely played.
One of the best comics I've read this year! And I know that I often forget to keep up with these kinds of comic series… but this is something that I promise to never let les oubliettes take as prisoner! Hope you'll have a great time reading this, too!