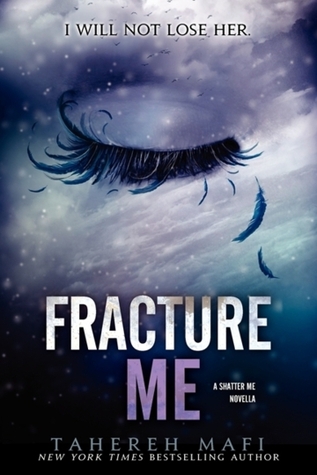 Fracture Me by Tahereh Mafi
My rating: 2 of 5 stars
Received: bought
Publication Date: December 17th 2013
Publisher: HarperCollins
Genres & Themes: YA, Dystopia, Novella, Masculine POV
BLURB:
In this electrifying sixty-page companion novella to the New York Times bestselling Shatter Me series, discover the fate of the Omega Point rebels as they go up against The Reestablishment. Set during and soon after the final moments of Unravel Me, Fracture Me is told from Adam's perspective.
As Omega Point prepares to launch an all-out assault on The Reestablishment soldiers stationed in Sector 45, Adam's focus couldn't be further from the upcoming battle. He's reeling from his breakup with Juliette, scared for his best friend's life, and as concerned as ever for his brother James's safety. And just as Adam begins to wonder if this life is really for him, the alarms sound. It's time for war.
On the battlefield, it seems like the odds are in their favor—but taking down Warner, Adam's newly discovered half brother, won't be that easy. The Reestablishment can't tolerate a rebellion, and they'll do anything to crush the resistance . . . including killing everyone Adam has ever cared about.
Fracture Me sets the stage for Ignite Me, the explosive finale in Tahereh Mafi's epic dystopian series. It's a novella not to be missed by fans who crave action-packed stories with tantalizing romance like Divergent by Veronica Roth, The Hunger Games by Suzanne Collins, and Legend by Marie Lu.
REVIEW:
My heart is fractured,
broken,
shattered,
in pieces,
for Adam.
Maybe I shouldn't feel this way. Maybe he deserves it. He was an ass for most of the novella but, nevertheless, I cannot forget how good he once was for Juliette and how he obviously still cares for her.
I still want a future with her. I want to know that one day we'll be able to settle somewhere safe and be together in peace. I'm not ready to give up on that dream yet. I'm not ready to give up on us.
There's one thing that I don't like though: he thinks of her as a weak and irrational person AND is rude about it. I thought love was supposed to blind one from his/her true love's imperfections? Or at least accept them.
That got me thinking. Is he really in love with Juliette? Or could it be that he dearly felt the necessity to protect her and keep her safe, because he loved how that made him and her feel? I'm still not sure about everything; my thoughts on him are a little disorganized for now.
What I do know though is that he has his qualities. He may not act as it would please us, readers, but his love for James was what saved his character in this novella for me.
James clings to me, acting more like a child than he has in a long time, and I'm happy to see it. Sometimes I worry he's growing up way too fast in this shitty world, and though I know I can't protect him from everything, I still try. He's been the only constant in my life for as long as I can remember; I think it'd rip me apart if anything happened to him.

I'll never love anyone the way I love this kid.
I simply cannot resist brotherly love.
Many characters were present, except from Warner.
Yet he felt there. Everywhere. All the time. Adam was thinking how much he wants to slaughter him. Juliette's confused feelings toward him were evident. And they were sort of panicked. Because he escaped.
The content of this novella is boring. Pertinent to some, but, unlike the #1.5 one, not as necessary/important. This is something that could have been only summarized – and I think it is briefly – in the third book.
You definitely don't have to read this, only if you have some extra time in front of you. I did, because I was curious to know Adam's opinion toward everything that happened, but it didn't make me love him more or less. It just left me a bit unsatisfied and cofused concerning Adam's real feelings for Juliette. And sad for everything that his character went through.