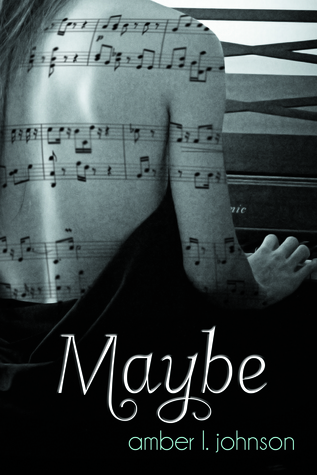 Maybe by Amber L. Johnson
My rating: 2 of 5 stars
Received: NetGalley
Publication Date: February 12th 2015
Publisher: The Writer's Coffee Shop
Genres & Themes: NA, Contemporary, Romance, Erotica, Music.
BLURB:
Letting go is hard. Admitting you need each other is harder.
Emily Portman loves her job. A writer for Breakout! Magazine, she shadows and showcases up-and-coming bands. When her next assignment takes her to Austin, Texas, she can't wait to add the city to her map of places she's visited. Places she's left without looking back. Her plan is to keep moving on, and the last thing she needs is a man holding her back. She's not going down that road again.
Tyler Macy is stuck in a rut. Despite his exceptional talent as a musician, he has chosen to take a back seat with his music and let others grab the limelight. Wounded and mistrustful, he doesn't appreciate his friends' efforts to bring him back to center stage. Emily comes onto the scene and sees his full potential, but he fights to stay in the shadows, shutting her out before she can add to the scars another woman gave him.
For Tyler to find his music again, he needs to accept the help that Emily and their friends offer. When he discovers that his muse lies underneath Emily's skin, it is still not enough to keep her from walking away. Neither will admit what they really want until it is too late.
Emily is once again thrown in Tyler's path when she is assigned to join them on tour. Despite the pain in his past, Tyler sees that she is worth it, even if she's stolen both his heart and peace of mind. In order for them to be together, they both must discover whether the music and their passion are enough to overcome the obstacles that separate them.
Maybe finding love is worth the risk.
REVIEW:
This story was actually cute – sweet even – but nothing that I haven't read, seen, heard of or imagined before. There's an (almost) insta-hate (perhaps 'annoyance' would fit better) between Emily, the journalist, and Tyler, the band artist, whom met in a common place and found their paths being crossed together by an interview Emily had to do. Emily didn't know that the Tyler she had the pleasure to talk to was the Tyler. Maybe insulting him, intentionally or not, wasn't that of a bright move?
I love insta-hate or when two people aren't instantly swooning over one another and actually keeping their distance, I really do. When it's done well. And not when the characters end up doing ''everything but sex'' within the first 20% of the book or so. That doesn't make it believable to me, and their attraction even less. The chemistry didn't have time to grow and radiate: it all went too fast! There were so many moments during my read in which I fervently wanted to say: ''Wow, slow down a little: you don't even like the guy and barely know him'' to the main character. She didn't quite need a wake up call, but her resolution to not date musicians was not only in vain but also unnecessary, due to the fact that Emily doesn't like following rules.
The writing was pleasant overall. It could have been a lot better and I'm saying this because I've read Puddle Jumping by this author and was blown away by the plot and surprised by the writing. But, this? Very weak execution to an even weaker and already done plot.
The bits of journal that were included from Tyler's point of view felt out of place sometimes. It was as if, in my opinion, the author inserted them to attach us to the love-interest more. But they weren't needed; his kindness alone did the job. I guess I'm thinking this also because they were 1) so cheesy! Oh god, they seemed fake for how cheesy they were, 2) the shortest journal excerpts I've ever read in a book, 3) definitely not developing his points or describing his feelings enough! and 4) they read as if written by a thirteen-year-old boy…
The pacing was fast, which surely was convenient. I don't mean to sound rude, but the predictability of the story would have made me DNF this book early into the story due to boredom and too many eye-rolls, if it were to have a slow pacing. I wish I could say more positive things about this, but, except for the writing which was good and Tyler that was likable, many things didn't please me.
The characters during sex gave me as impression that they were somehow performing for us, readers. Like they knew we were watching and did what they thought would please us. That isn't how I like my sex scenes to be.
I don't think this deserves a one star rating, but I feel a tiny generous for giving two stars nonetheless. Although, I just found another thing I appreciated (the lyrics) and three enjoyed elements out of averagely ten, fifteen of a story are enough to make me classify this as 'okay,' I guess.
One more thing: the main character was pretty blunt and didn't always think before she spoke. (That means her saying things or thinking stuff that can make you shake your head in disapproval.) Not quite what I was expecting by taking oh so many looks at that original cover and seeing this lovely looking model, but it wasn't that bad still. Just unexpected.
I don't think this would be liked by many that are familiar with music as theme in a story and love between a musician and someone not quite in that 'world' – even though she is a journalist and has experience with celebrities (I assume) – but maybe those who aren't might find this to be more appealing.