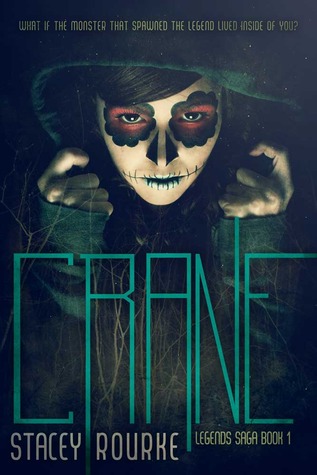 Crane by Stacey Rourke
My rating: 3 of 5 stars
Received: NetGalley
Publication Date: May 26th 2014
Publisher: Anchor Group Publishing
Genres & Themes: NA, Paranormal, Legends, Romance, Suspense, Mystery.
BLURB:
The Horseman is unending,
his presence shan't lessen.
If you break the curse,
you become the legend.
Washington Irving and Rip Van Winkle had no choice but to cover up the deadly truth behind Ichabod Crane's disappearance. Centuries later, a Crane returns to Sleepy Hollow awakening macabre secrets once believed to be buried deep.
What if the monster that spawned the legend lived within you?
Now, Ireland Crane, reeling from a break-up and seeking a fresh start, must rely on the newly awakened Rip Van Winkle to discover the key to channeling the darkness swirling within her. Bodies are piling high and Ireland is the only one that can save Sleepy Hollow by embracing her own damning curse.
But is anyone truly safe when the Horseman rides?
REVIEW:
Break the curse, become the legend.
All is well in Sleepy Hollow. That is, until the Horseman strikes and spreads panic in the mind of the inhabitants.


No one is safe. You can run, you can barricade yourself in, but he will find you and, when he does, he will be pitiless.
In other words, you are doomed.
But what if the enemy is even closer than you might think?
The concept of this story was great and full of imagination but the execution didn't work as well for me. The writing was pretty good and never repetitive but sometimes it felt like the author threw too much information or description which sometimes made the principal subject drift from what the narrator was talking about to begin with. A bit too overstuffed but there was beauty in it still.
Cloak of light,
bring Horseman's plight.
His pricy tool,
will be a soul.
Run and hide,
before his ride.
Or the dead,
shall bring ye head.
The fact that we have two different, even though omniscient, points of views was engaging. One character lives in our century and the other in an historical one, which felt like giving two perspectives to a matter but also some background to the main subject and world-building.
Ireland is one of the two main characters, but I didn't find her personality charismatic or riveting. It was principally because of her way of speaking, which didn't grip my attention or some sort of connection from my part:
''Dude, if this is some sort of drug thing and you're coming down from the bender, you should really look into clean living.'''
Or:
''Wow. That's impressive in a delusional, bat-shit, crazy kind of way.''
I wanted to like her but her attitude, behaviour and expressions didn't please my ears for they could be exaggerated or giving her a feeling of naïveté.
From the start, Noah appeared to me like a suspicious character and so seeing Ireland and him flirt and develop something didn't make the romance look terrific to my eyes. In all honesty, I preferred for Rip to have more of closeness to Ireland than Noah.
Ichabod was definitely my favorite main character and the fact that he is one of the lead ones made it all better. He is elegant, calm, gracious and sometimes even entrancing. I especially loved the way he interacted with others and witnessing how truthful his love for Katrina is was one of the things I appreciated most.
One little part I don't understand is why did Brantley, Ireland's ex, needed to stumble into the story? I have no idea what necessity there was for him to come back to her again. It sadly felt like a plot hole filler and what came out of his mouth in the scene in question was quite in a fake intonation and seriously felt like a pack of lies.
The story was intriguing and suspenseful enough for me to enjoy it and consider reading the sequel. The romance was unluckily the element I enjoyed least since there was no surprises and Ireland wasn't my favorite type of character but, other than that, it is a read that I believe will please many and even enthral some.
PS. That is one original cover!