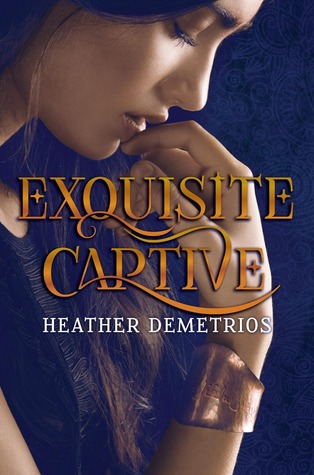 Exquisite Captive by Heather Demetrios
My rating: 2 of 5 stars
Received: bought
Publication Date: October 7th 2014
Publisher: Balzer+Bray
Genres & Themes: YA, Urban Fantasy, Dark, Magic, Romance.
BLURB:
Forced to obey her master.
Compelled to help her enemy.
Determined to free herself.
Nalia is a jinni of tremendous ancient power, the only survivor of a coup that killed nearly everyone she loved. Stuffed into a bottle and sold by a slave trader, she's now in hiding on the dark caravan, the lucrative jinni slave trade between Arjinna and Earth, where jinn are forced to grant wishes and obey their human masters' every command. She'd give almost anything to be free of the golden shackles that bind her to Malek, her handsome, cruel master, and his lavish Hollywood lifestyle.
Enter Raif, the enigmatic leader of Arjinna's revolution and Nalia's sworn enemy. He promises to free Nalia from her master so that she can return to her ravaged homeland and free her imprisoned brother—all for an unbearably high price. Nalia's not sure she can trust him, but Raif's her only hope of escape. With her enemies on the hunt, Earth has become more perilous than ever for Nalia. There's just one catch: for Raif's unbinding magic to work, Nalia must gain possession of her bottle…and convince the dangerously persuasive Malek that she truly loves him. Battling a dark past and harboring a terrible secret, Nalia soon realizes her freedom may come at a price too terrible to pay: but how far is she willing to go for it?
Inspired by Arabian Nights, EXQUISITE CAPTIVE brings to life a deliciously seductive world where a wish can be a curse and shadows are sometimes safer than the light.
REVIEW:
DNF at 56%—
Fire and blood, this wasn't supposed to happen!

When the beginning was so intriguing…
But then progressively started feeling unnecessarily slow and repetitive and hell boring!
It is true that I rarely give two star ratings to books I DNF, but I can't bring myself to give it the lowest possible, since the author did manage to create a complex unique world-building that I would have loved to know more about, if only I didn't feel like closing the book after every new page read.
See, I did expect it to have romance since, well, powerful and irresistible master + new acquired 'ally' that she gets quite close to. What I didn't expect though was the fact that it has such a grand importance to the plot. I mean, in order to free herself, Nalia has to steal this necklace from her master's neck. How is it that she'll do that? By seducing him, well of course. How else, right? *snorts*
As a main character, I was certain Nalia would be an admirable one, and was captivated by how strong she appeared in the first chapters.
If he punished her, she'd fight. She'd lose—he could command her to stand still or punch herself, if he wanted to—but she'd promised herself that she'd never go into that bottle without fighting like hell to stay out of it.
Powerful! Impressive! …But bloody hell she becomes annoying, always on the defensive and so cynical. I would understand, with her situation, that she may not be happy all the time and, of course, reluctant to trusting people, but when she actually says that she prefers someone to look at her with hate then pity, then there is a problem. Sometimes, pity can actually save you.
As a story, it was pretty intense. And dark. The problem is, there were these memories and this constant reference to some war happening in her ancient land, Arjinna. Since we weren't there—as in witnessing it—I didn't feel much emotion toward that. Also, she keeps talking about her brother that scarified his freedom for her, when she in fact did something terrible and didn't deserve it. My question is: WHAT DID SHE DO? She killed, alright, but when? Where? Why? How? Why the constant guilt? Why can't she move on? I remember her saying something about being in the war and not able to save others, but is that a reason to think of herself as a bad person and not move on?
Another problem I had with this is the fact that there is obvious danger out there, but what does the main character do? Oh well, her life, even though being chained to someone, is quite calm. She takes walks to places she likes, visits friends behind her master's back, is gifted beautiful clothes, goes to parties…when she should be planning something more of importance. It wasn't realistic! And, by the way, there was no necessity for us to witness every new killing of Shaitan in different cities! I mean, sure one time would be interesting, but not two, three, four times!—and I guess more, since I DNFed so will never know.
I wish the romance would have actually been good, being so important and all. But I couldn't care for the master that was supposedly in love with Nalia, even though he doesn't treat her very well. I just didn't understand how him, rich, full of power, pitiless and quite ruthless sometimes, could truly love deeply. I guess everyone can love, but I wasn't convinced in this case.
You know, I won't say if I recommend it or not. This obviously is a hit or miss and, depending on your pet peeves, preferences, fantasies and values, you may…or may not enjoy this. I do hope that, for you, it'll go better than it did for me.