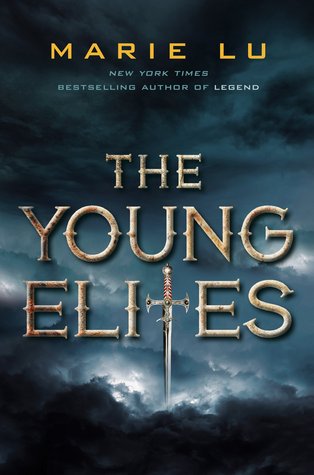 The Young Elites by Marie Lu
My rating: 3 of 5 stars
Received: bought
Publication Date: October 7th 2014
Publisher: G.P. Putnam's Sons Books for Young Readers
Genres & Themes: YA, Fantasy, Dark, Magic, Romance, Friendship, Family, Betrayal
BLURB:
I am tired of being used, hurt, and cast aside.
Adelina Amouteru is a survivor of the blood fever. A decade ago, the deadly illness swept through her nation. Most of the infected perished, while many of the children who survived were left with strange markings. Adelina's black hair turned silver, her lashes went pale, and now she has only a jagged scar where her left eye once was. Her cruel father believes she is a malfetto, an abomination, ruining their family's good name and standing in the way of their fortune. But some of the fever's survivors are rumored to possess more than just scars—they are believed to have mysterious and powerful gifts, and though their identities remain secret, they have come to be called the Young Elites.
Teren Santoro works for the king. As Leader of the Inquisition Axis, it is his job to seek out the Young Elites, to destroy them before they destroy the nation. He believes the Young Elites to be dangerous and vengeful, but it's Teren who may possess the darkest secret of all.
Enzo Valenciano is a member of the Dagger Society. This secret sect of Young Elites seeks out others like them before the Inquisition Axis can. But when the Daggers find Adelina, they discover someone with powers like they've never seen.
Adelina wants to believe Enzo is on her side, and that Teren is the true enemy. But the lives of these three will collide in unexpected ways, as each fights a very different and personal battle. But of one thing they are all certain: Adelina has abilities that shouldn't belong in this world. A vengeful blackness in her heart. And a desire to destroy all who dare to cross her.
It is my turn to use. My turn to hurt.
REVIEW:
Adelina definitely surprised me.
She's such a strong heroine. The kind we just love to have in our fantasy reads. It's pretty crazy, to say, how easily she and I clicked. Turns out, even though I don't believe myself to enjoy or, sometimes, want to hurt people, we have many things in common, such as fighting for what is dear to us, family and always trying our best.
Enzo is the love-interest of Adelina. He is the rightful heir to the throne, but was banned, since he is a malfetto and malfettos are feared and, even, in some other places killed. Just because they're different from others. They may not be 'evil' but, to the eyes of others, they very likely are since they are usually flawed and have unique powers. Enzo is the head of the Young Elites which is a secret sect of malfettos who are organizing…something big. They want to make of Enzo the ruler of the Kingdom. Which is fantastic. I think it to be a great idea…except that there wasn't much they actually did to achieve their goal.
In fact, there wasn't that much happening in the story. It mostly revolves around Adelina who became a spy, in order to free her sister, Violetta, from the hands of Teren, someone who despises malfettos. I do understand why Adelina decided to agree to Teren's terms for the freedom of her dear sister, but I think the whole concept and situation was too simple, in a way. There was a lot lot lot of potential but it feels, to me, like the author somehow decided to take the easiest path, because of how she 'handled' everything that happened. No scenes that will blow your mind.
Other than that, I did enjoy this, really. I wasn't that disappointed, since I did not have very high expectations, being one of the few who were not mesmerized by the 'awesomeness' (as many say) of the Legend trilogy. I enjoyed it, same as this one, but nothing more…
There was almost no romance. A little, but this is definitely not driven by romance. When it was present though, I was hooked and hold my breath at how captivating it was. But, like I said, there's isn't much of it. What a shame.
The writing was good and pleasant enough to read. I did think that the world-building wasn't as developed as there was possibility to be though. The author did a great job at creating unforgettable characters but, in my opinion, she kind of neglected the world-building. There is some of it, of course, but you can see how the characters are more important compared to it.
When I think about how the author switched from dystopian (with Legend) to fantasy, (with this) I think she overall proved that she can create a story, whatever the genre will be. And that's fantastic! Bravo to her! Would love to see if she pulls contemporary off. I think she could.
I would recommend this to fantasy fans out there. Be warned, though, it is very different from her well-known trilogy. You may see similarities to characters but, other than that, it's completely different. It was a good read, some scenes were dragging here and there or having too much of Adelina's internal struggles but it was engaging enough and the magic interesting.
PS. Am I the only one who thinks the cover is a little…cheap? Giving the impression that the design as a whole is only half finished? What are your thoughts on it?
Sources:
–First art
–Second art