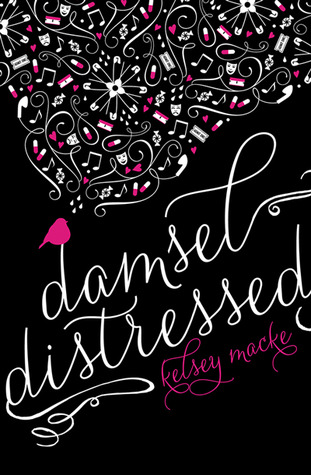 Damsel Distressed by Kelsey Macke
My rating: 4 of 5 stars
Received: bought
Publication Date: October 14th 2014
Publisher: Spencer Hill Contemporary
Genres & Themes: YA, Contemporary, Mental Illness, Fairy tale retellings, Love, Friendship
BLURB:
Hot girls get the fairy tales. No one cares about the stepsisters' story. Those girls don't get a sweet little ending; they get a lifetime of longing
Imogen Keegen has never had a happily ever after–in fact, she doesn't think they are possible. Ever since her mother's death seven years ago, Imogen has pulled herself in and out of therapy, struggled with an "emotionally disturbed" special ed. label, and loathed her perma-plus-sized status.
When Imogen's new stepsister, the evil and gorgeous Ella Cinder, moves in down the hall, Imogen begins losing grip on the pieces she's been trying to hold together. The only things that gave her solace–the theatre, cheese fries, and her best friend, Grant–aren't enough to save her from her pain this time.
While Imogen is enjoying her moment in the spotlight after the high school musical, the journal pages containing her darkest thoughts get put on display. Now, Imogen must resign herself to be crushed under the ever-increasing weight of her pain, or finally accept the starring role in her own life story.
And maybe even find herself a happily ever after.
Enhance the experience with the companion soundtrack, Imogen Unlocked, by the author's band, Wedding Day Rain.
REVIEW:
Could you imagine a Cinderella that is mean – cruel even, bitchy and manipulative?
What if her stepsister is the most unfortunate one?
And what would say if Carmella wishes to destroy Imogen's happiness?
I have never read a contemporary fairy tale retelling before, so this book was surprise box for me. While I do prefer much much more the fantasy ones, this was a read that, in my opinion, has originality and is filled with pure emotions and honesty.
Imogen has a lot going on – she's depressive, craves inside her to be like those skinny girls that get every boy and is in love…with her best friend. Comes the time when her father announces her that she will be living with Carmella, a phony person that doesn't seem to have her best interest at heart. She even claims herself to be named Ella Cinder in school, making Imogen look like the ugly – I don't agree – stepsister.
Hot girls get the fairytales.

Hot girls like my stepsister.
We don't know why Carmella is being so unfair to Imogen…until a good part of the story has passed, and even then it is not one hundred percent clear. But that's good, in a way, since it gives us time and the possibility to make our own interpretation and assumptions. However, I thought it to be quite predictable, and is even a bit cliché, unfortunately.
The romance may have been simple, but it was definitely lovely. And filled with sexual tension and apprehension. What I liked most was the fact that, not only did I like the love interest, but their chemistry was evident. And beautiful. Had it been like the usual boy-and-girl-are-best-friends-but-girl-falls-in-love-with- boy, I would not have enjoyed it – because it is part of my pet peeves in books – but the whole romance/friendship is never less than a cute and smile-worthy one.
Grant is my gravity. He doesn't force anything, but he is a force. Something I never even notice until I realize I haven't drifted away.

He loves me and has shown me that love over and over.

But it's not every kind of love.

It's just one kind.

And it's a really good kind.

But it's not the only kind.

It's not the kind of love that grew on me.
I loved the writing.
It wasn't rich with those breath-taking words that crawl on you. On the contrary, it was pretty standard but that means a faster comprehension and connection with the whole plot, characters and themes, at least for me. By the little way, there is LGBT in this – I love love love LGBT. The sentences were beautifully structured and it was definitely a pleasure to read the story.
One shame though is the fact that we don't get to know Carmella very well at all and, since this is a standalone, that is sadly not a good thing. She indeed was a despicable character, but even those ones are ones I want to get to know better. Lack of characterization there. The secondary characters, them, were well-described. They weren't as present as I wished they were – especially Brice and Jonathan – but I do understand that it needed to be focused on Imogen and her story and feelings, especially those.
Have I told you that Imogen has a lovely sense of humour? She does! For instance:
I try not to gag. ''Yeah, no. I've really gotta go.'' Far, far from you, crazy morning lady.

''Well, okay then, honey. Now Dr. Rodriguez called last week and said that since we changed your dosage, we need to keep an eye on the additional weight gain.''

Additional. I'm going to hit her.

''He's worried about the change from June to now, so he says if it goes up again during your November check-up, they're going to reevaluate your scripts.''

Oh man, this woman is the worst. How dare she stand there all skinny and talk to me about being fat? Insensitive witch.
Well, well, how can one being resist this type of narration voice? Really enjoyed her personality.
There is also to know that, in this book, there are some beautiful illustrations, such as:
Overall, this is a must-read for those who enjoy psychological books or some containing mental illness, loss, death and joy of life as themes. A great writing style, entertaining female lead and endearing scenes will await you.