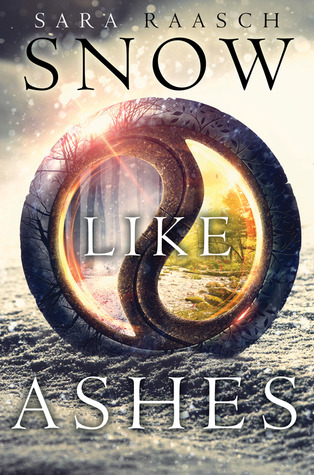 Snow Like Ashes by Sara Raasch
My rating: 3 of 5 stars
Received: bought
Publication Date: October 14th 2014
Publisher: Balzer + Bray
Genres & Themes: YA, Fantasy, Magic, War, Family, Friendship, Romance,
BLURB:
A heartbroken girl. A fierce warrior. A hero in the making.
Sixteen years ago the Kingdom of Winter was conquered and its citizens enslaved, leaving them without magic or a monarch. Now, the Winterians' only hope for freedom is the eight survivors who managed to escape, and who have been waiting for the opportunity to steal back Winter's magic and rebuild the kingdom ever since.
Orphaned as an infant during Winter's defeat, Meira has lived her whole life as a refugee, raised by the Winterians' general, Sir. Training to be a warrior—and desperately in love with her best friend, and future king, Mather — she would do anything to help her kingdom rise to power again.
So when scouts discover the location of the ancient locket that can restore Winter's magic, Meira decides to go after it herself. Finally, she's scaling towers, fighting enemy soldiers, and serving her kingdom just as she's always dreamed she would. But the mission doesn't go as planned, and Meira soon finds herself thrust into a world of evil magic and dangerous politics – and ultimately comes to realize that her destiny is not, never has been, her own.
REVIEW:
''It's too easy to throw balance into chaos.''
This was an interesting, mostly positive, surprise. I did not know what I was getting into, perhaps, for there are many things I wasn't expecting to discover.
While, overall, I found Meira to be a good fantasy heroine, there are some specific scenes, that could have been avoided or modifided, making her, somehow, get out of her character—a strong and fierce one. It is that she is quite reckless and there are moments when she can't control her emotions and acts. I did want her to be acting in a more mature way, during some scenes, because she can get childish at certain moments.
For example:
''Meira, this isn't going to fix anything—''
''Don't care.''
''I've talked to him every day since he announced the wedding; if I can't change his mind—''
I grit my teeth. ''I. Don't. Care.''
Why don't you try listening to what he has to say, huh, Meira? Although, this was a little observation. She is still a kick-ass heroine.
There is a love-triangle. I know I shouldn't be surprised anymore—YA is filled with them—but it's still disappointing, since I expected another kind of romance. Meira is in love with her childhood friend who has always taken care of her, Mather, but they can't be together. He's the next in line to become King of Winter and, well, she's an orphan. But, then, circumstances are that she meets another prince, Theron. She may not have had the best of opinions on him at first but they slowly get to know each other and she even comes to like him…Well, that wasn't hard to predict.
The pacing is very slow. I personally didn't mind it at all because, since there is a war setting, it is very normal. This kind of plot needs slowness to plan and prepare and make us understand the context, so it definitely was alright for me. However, I did think that the plot focused too much on that. At first, I thought it wa going to be overwhelmed with romance, but I was very wrong. I did enjoy the story because of how invested I was. What happened to the Winter kingdom was very sad and unfair and I was agreeing with the Winterians doing whatever they could to get their magic back.
Characterization wasn't missing in this book at all. They are, of course, some characters you will appreciate and others you will despise—that's how much it can vary from one to another—but they certainly are well-developed and worth encountering. I personally really liked reading about Theron and how he started to stand up for what is important for him and the people. Incidentally, while I did like his character, I think it would be more interesting if he and Meira, in the sequels, stayed friends and build a strong boy/girl friendship because, effectively, those are possible.
The writing was one thing I liked most of this story. Well-written, in my opinion, as only a certain amount of fantasy authors that risk themselves in this impressive genre know how to write. The kind that will absorb you and won't let go of your interest, until you reach the last page.
If you find yourself in front of this book, don't hesitate—it is worth it! I may only have rated it three stars, but I believe it is a good fantasy story that will only improve with its sequels, which I'm looking forward to read.