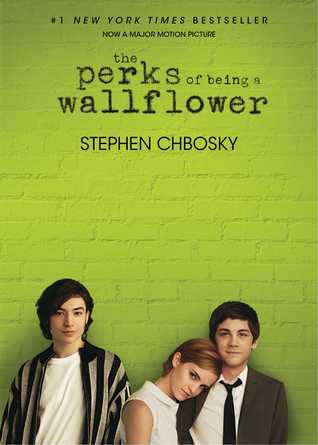 The Perks of Being a Wallflower by Stephen Chbosky
My rating: 5 of 5 stars
Received: borrowed
Publication Date: February 1999
Publisher: MTV Books and Pocket Books
Genres & Themes: YA, Family, Friendship, Love, Abuse, Realistic Fiction, LGBT.
BLURB:
Charlie is a freshman.
And while he's not the biggest geek in the school, he is by no means popular. Shy, introspective, intelligent beyond his years yet socially awkward, he is a wallflower, caught between trying to live his life and trying to run from it.
Charlie is attempting to navigate his way through uncharted territory: the world of first dates and mix tapes, family dramas and new friends; the world of sex, drugs, and The Rocky Horror Picture Show, when all one requires is that perfect song on that perfect drive to feel infinite. But he can't stay on the sideline forever. Standing on the fringes of life offers a unique perspective. But there comes a time to see what it looks like from the dance floor.
The Perks of Being a Wallflower is a deeply affecting coming-of-age story that will spirit you back to those wild and poignant roller-coaster days known as growing up.
REVIEW:
''Charlie, we accept the love we think we deserve.''
That is quite true. I have stumbled upon many beautiful sentences, throughout my reading, and ones that make us think but, this one, is my absolute favorite of them all.
There is so much that can be said about this, yet I don't seem to find the right words, but I will try my best. It was such an…emotional, deep and realistic story. The plot was simple, if we only look at it as a whole, but every detail contributed to make it an incredible read. And every character to make this story an unforgettable one for us.
Charlie is the sweetest male character I have ever encountered in a read.
What I loved most about him though is how honest he was and wasn't afraid to tell the truth. There is some exception though but he felt so bad for lying that he made everything right and I couldn't stop saying/thinking ''Aww.'' He is cute and loveable and it is impossible not to get invested in his story.
Not only was the main character a fantastic one, but the secondary ones were as well. Let's take Sam for example. She may look/behave like a million other girls on the planet but, the way she understood Charlie and always seemed to have the right words for him, made her someone unique and a wonderful person to my eyes.
There are multiple 'love stories' in this book but they don't all end well. I wasn't as affected while reading, since I saw the movie first, but it was still very hard to read about Patrick's relationship with Brad. LGBT has always been a dear theme to me and reading about how sad, beautiful and poignant Patrick's love for Brad was really touched me and I only wished, throughout the story, that they will both have their happily-ever-after because, even though they may not be perfect, they deserve it.
I saw multiple reviewers complain about the writing. Some said it was too simplistic for them to enjoy it or perhaps they weren't used to this kind of style. It very much reminded me of Aristotle and Dante Discover the Secrets of the Universe's–a book I highly highly recommend. It was indeed simplistic but, like Charlie, himself, said in the story, he writes the way he speaks. And, knowing that, I found it matching the story perfectly. And ended up loving it and feeling even more like knowing Charlie in dept than I may have with a different writing style.
The story was filled with different themes or messages, but the one I love the most is how it's not where we come from or in which family we grow up in that define who we are. We make our own future and it's not because our parent(s) treated us badly or was/were alcoholic that we will as well. It's our life and, depending on ourselves and our choices in life, we will become who we are meant or wish to.
There is a reason why this book is so popular and appreciated by readers and, by reading it, you will certainly find out. It's the kind of book I would recommend that everyone, at least once in their life, would read.
View all my reviews on Goodreads.