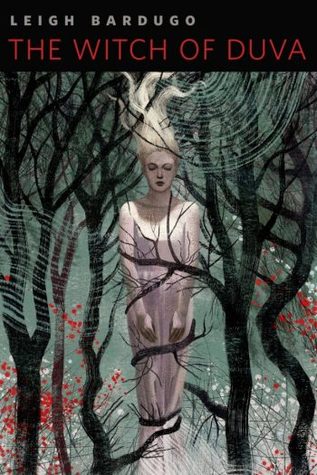 The Witch of Duva by Leigh Bardugo
My rating: 4 of 5 stars
Received: Freebie!
Publication Date: June 5th 2012
Publisher: Tor
POV: 3rd person & female
Pacing: Fast
Genres & Themes: Fantasy, Family, Witches, Dark.
BLURB:
There was a time when the woods near Duva ate girls…or so the story goes. But it's just possible that the danger may be a little bit closer to home. This story is a companion folk tale to Leigh Bardugo's debut novel, Shadow and Bone.
REVIEW:
THAT TWIST. (There were many actually, but THAT twist!—was a poignant one.)
I don't usually read short stories (or novellas) because they tend to feel underdeveloped and don't give that kind of satisfaction after finishing them, since I always feel like there was something missing or could have been better but was not. I have an exception in mind though, besides this one: Gilded Ashes, which is a fairy tale retelling as well.
This…was captivating. I thought I wasn't going to be surprised because it's a Hansel and Gretel retelling and what can possibly be done with that story? Well, apparently, a lot since Leigh Bardugo managed to create so many twists and turns.
And a likable heroine. I couldn't help but be invested in Nadya's story from the beginning. What I found a shame though is her brother, Havel, being, absent in the plot and only present when the narrator was willing to give us some insights on him. That wouldn't have been a problem if it were just a normal story but, being a retelling of Hansel and Gretel, I feel like he should have been at least physically there during one chapter.
This is set in the same world-building as The Grisha trilogy. Having LOVED Shadow and Bone, I had to read this. And I'm so grateful I decided to not prolong the reading time for I would have regretted it for sure. We do see enough of the world-building which itself is pretty rare in a short story—good job!
I really don't want to spoil it for you and, hey, being a short story, it's better if you begin your read knowing pretty much nothing, at least that's my opinion.
I decided to summarize it anyway though, for those who are interested: Nadya's mother died and her father started seeing someone else (there's a famine in between and her brother going away—to the draft) but, that woman (Karina) does not like Nadya. At all. And it's mutual. She keeps pushing Nadya on going away and leaving the house and so one day she does. Into the woods.
And she encounters the witch.
And things get really good—even though they already were. But, then, the plot is at its best.
The writing was great and, seriously, I don't know what happened. I turned the first page a minute ago and then BOOM, last page was already before me. It was so addictive that I didn't even look once at what page I were at a certain moment, which I always do so I can count approximately how much time I will need to finish it (really bad habit.)
It is recommended to read Shadow and Bone first for I think you would understand a little bit better and feel more connected to the story but, if you don't, it's not that of a problem; you will still enjoy this very much, I believe.
The best part? You can read it for free, here! Enjoy! ^_^