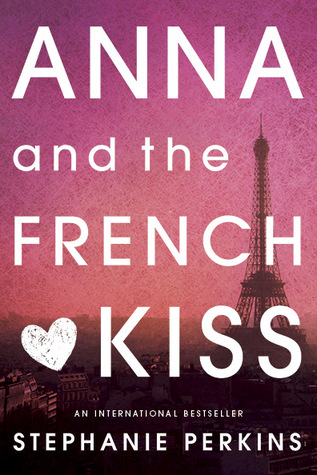 Anna and the French Kiss by Stephanie Perkins
My rating: 5 of 5 BRILLIANT stars
Received: bought
Publication Date: December 2nd, 2010
Publisher: Speak
POV: 1st person & female
Pacing: just okay
Genres & Themes: YA, Contemporary, Romance, Traveling, Friendship, Love
BLURB:
Can Anna find love in the City of Light?
Anna is happy in Atlanta. She has a loyal best friend and a crush on her coworker at the movie theater, who is just starting to return her affection. So she's less than thrilled when her father decides to send her to a boarding school in Paris for her senior year. But despite not speaking a word of French, Anna meets some cool new people, including the handsome Étienne St. Clair, who quickly becomes her best friend. Unfortunately, he's taken —and Anna might be, too. Will a year of romantic near misses end with the French kiss she's waiting for?
REVIEW:
One lovely word: Étienne
Sweet sweet sweet.
I might just have fallen in love.
This story equals exactly: Friday night + rain outside + chick flick + Skittles + chocolate + popcorn + comfortable couch + lovely boyfriend/friends. HEAVEN.
10 Things You'll Find:
1– A main character that has personality
2– A swoon-worthy love interest
3– Some beautiful friendly relationships
4– Secondary characters that are truly unforgettable
5– A setting you won't resist (it's Paris, guys, PARIS!)
6– A plot that doesn't lack of originality
7– Lovely humour that makes a delightful atmosphere
8– A more than pleasant writing style that doesn't do repetition
9– No moment of boredom!
10– A new favourite series to fangirl over…
Such a relaxing and absolutely worth reading story. I'm very picky with my contemporaries, since I had so many bad experiences and try to learn from them and avoid subjects I don't feel comfortable reading about such as raping, cheating, polygamy, etc. (Those were only examples, doesn't mean the story contains all of them.) That's why I waited so much before reading this. That, and the negative reviews.
I first discovered it last year and heard that there is cheating in the story which made me wince a little. A lot, actually. At first, I didn't want to even slightly touch it. But, at the same time, people cheating on others happens frequently in our society so, not tolerating those kind of situations in my reads made me realize that I get quite limited on books I 'can' read. So I got passed that. To be honest, the cheating in this book did not bother me that much because 1) it was realistic, 2) the guy was a dick and 3) means the girl concerned was then free of the guy in question! Of course, it isn't pretty but it's not that dramatic or taking many many pages.
Except for that cheating situation I was referring to above, it's really the kind of read that will make you smile and smile and smile some more, but also feel concerned when necessary because, even though it's light overall, there are some scenes here and there that are more serious and sad, but not unbearably sad.
Another thing that I really appreciated was the fact that I actually learned new information about authors especially. For example, I had no idea the author of The Little Prince, Antoine de Saint-Exupéry, died in a plane crash! How awful but pertinent information to learn, in my opinion. (Anything concerning authors of classics is pertinent to my eyes.)
Very recommended, especially to every YA contemporary romance fan out there. You may also enjoy Wish You Were Italian.
Bonne lecture!