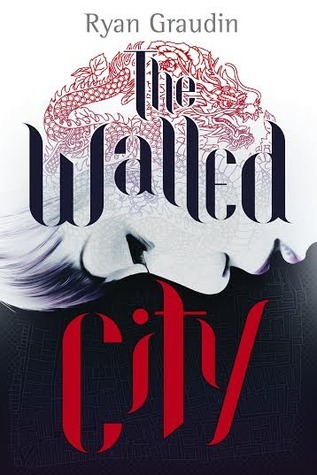 The Walled City by Ryan Graudin
My rating: 4 of 5 stars
Received: NetGalley
Publication Date: November 4th 2014
Publisher: Little, Brown Books for Young Readers
Pacing: fast
POV: Alternative (3) female + masculine
Genres & Themes: YA, Dark, Thriller, Romance, Family, Survival
BLURB:
There are three rules in the Walled City: Run fast. Trust no one. Always carry your knife. Right now, my life depends completely on the first. Run, run, run.
Jin, Mei Yee, and Dai all live in the Walled City, a lawless labyrinth run by crime lords and overrun by street gangs. Teens there run drugs or work in brothels—or, like Jin, hide under the radar. But when Dai offers Jin a chance to find her lost sister, Mei Yee, she begins a breathtaking race against the clock to escape the Walled City itself.
REVIEW:
Captivating, original, shocking, impressive and just…
I can't believe the Walled City is actually a place that used to exist in Hong Kong. A place where lived mostly criminals, fugitives, prostitutes, gangsters, homeless kids. This is not usually the kind of story I would enjoy reading and that because it is not an 'easy' read. Not the kind of story that would bring a smile upon your face, let's say. But that did not bother me, since stepping out of our comfort zone can be good from time to time. We can even discover some gems here and there. *eyes book*
I started this read thinking it would be some dystopian, maybe contain some similarities to The Maze Runner, due to the blurb. Was it? Not at all. I wouldn't even consider this to be a dystopian story because of how realistic it felt. And since, like it or not, human trafficking and drug dealers and brothels do exist in our non dystopian world too.
The characters were very well developed. There are 3 different points of views and they all worked out perfectly with the story. I don't think I would have enjoyed this as much, if it only contained one. We have Jin's, Dai's and Mei's (Jin's sister). They all had a different personality that made them unique and likable and especially interesting. I believe they are the ones that compelled me to keep reading the story, every time I felt like I should take a break from this overwhelming atmosphere that the story contains. I don't mean that it was unbearable but it was just…so powerful.
When I think plot, I think events and new characters here and there, some romance in the background that would make long for something else besides for seeing my favorite characters get what they need. The Walled City has this kind of plot that will hook you with its character seeking freedom, a safe heaven and comfort, each one of them, while, at the same time, trying their best to survive. What I loved the most though was how every chapter was short but ended with this phrase that only made you want to keep reading and seeing how everything turns out.
This is exactly the kind of writing I enjoy reading! It was like the author knew her characters perfectly for I believed in each one of them. She also knew how to put in words their thoughts and make some impact when what the characters were feeling or thinking needed focus on. All three main characters felt important and easy to connect or empathize with. Especially empathize with. Even though Dai kept saying he wasn't a good person, I had doubts because of how he was acting. He may not have been an angel, but I don't believe him to be a bad person still.
My only complaint would be that there wasn't a love interest for Jin Ling. At first, I thought it was going to be Dai but, when I realized he had more of a connection with someone else, was hoping Jin might get a romantic relationship with another person she might meet. Still, I can understand why she did not have the chance to, when considering the plot, so don't be too bothered by this personal opinion.
I couldn't say that this is a book for every reader out there….but I think that it deserves a chance, if you're willing to give it one. Maybe you won't enjoy the setting. Maybe you'll think it is disturbing. But there's also the possibility that you actually enjoy is as much as I did and end up being glad to have read it and will only want to read more of this author!
PS. It may have 400+ pages, but it was such a page-turner!