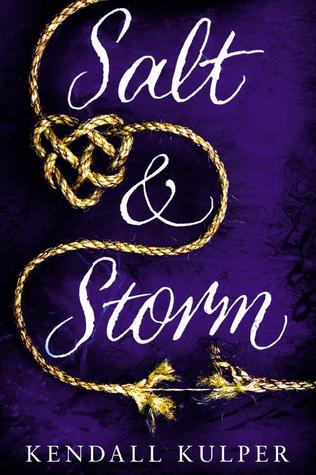 Salt & Storm by Kendall Kulper
My rating: 2.5 of 5 stars
Received: bought
Publication Date: September 23rd, 2014
Publisher: Little, Brown Books for Young Readers
Pacing: slow
POV: 1st person & female
Genres & Themes: YA, Historical Fiction, Fantasy, Witches, Magic, Romance, Family.
BLURB:
A sweeping historical romance about a witch who foresees her own murder–and the one boy who can help change her future.
Sixteen-year-old Avery Roe wants only to take her rightful place as the witch of Prince Island, making the charms that keep the island's whalers safe at sea, but her mother has forced her into a magic-free world of proper manners and respectability. When Avery dreams she's to be murdered, she knows time is running out to unlock her magic and save herself.
Avery finds an unexpected ally in a tattooed harpoon boy named Tane–a sailor with magic of his own, who moves Avery in ways she never expected. Becoming a witch might stop her murder and save her island from ruin, but Avery discovers her magic requires a sacrifice she never prepared for.
REVIEW:
Sea witches.
What is a sea witch, you may ask? Well, according to Wikipedia:
Sea witches used witchcraft related to the moon, tides, and the weather, or were believed to have complete control over the seas. In some folklore, sea witches are described as phantoms or ghosts who have the power to control the fates of ships and seamen.
I looked the definition up because, from the book, I did not have a feeling that they were some special creatures and wanted to know for sure. And they're not. Not really in this story anyway. In Salt & Storm, they're normal witches but ones that have a greater connection to the sea that the others. But, to sailors, they are important.
Unfortunately, no


or the equivalent to read about.
In this story, the witches also have other abilities. For example, our main character is a dream-telling as well as being a sea witch. But, she's not familiar with the practice of magic. Of course, she had seen her grandmother work with it but, in her lineage, women only acquired their magic when being trained and prepared…and also because of something else (that you will discover while reading.)
Avery isn't.
Her mother took her from her grandmother before this training could have started. Avery's mother wanted to prevent her from becoming the next witch of Prince Island (for there only is one at once) and so cursed her so she can never see her grandmother again.
Now, Avery had as dream that she will die…and need help. And who does she find that is willing too? A boy: Tane.
See, that's the problem. It began as a dark witch story and gradually switches to more of a love story one. When I did not care of the romance. Of course, witch-related elements were still there, but I felt like it mostly slowly went in the background.
If you want historical romance with slight magic, this is it. If you want witchcraft and a lot of information on witches, this is not quite it.
The atmosphere was pretty nice: eerie and there was often a feeling of 'pressure' as if running out of time (which the main character was). It was rarely calm and I guess that's what made me read this book so fast, since I strongly wanted to know what will happen in the end.
The love story in this book is very important but that doesn't mean that it will be all sunshine and beautiful butterflies.
I was not expecting the writing to be so good. It was impressive and that, along with the atmosphere and the main character, were what I liked the most about this book.
Sadly, to summaries, what didn't work for me was the length of the story (too long! could've cut some scenes), the too many descriptions and lack of dialogs, the setting that was boring at times since it hardly changed (Prince Island, Prince Island and, oh yeah, Prince Island again—with another village in between once or twice), the romance (Tane wasn't very exciting to read about) and the lack of witch-related (as in interesting ones) scenes that will knock our socks off.
I do believe that there are better witch-related stories out there, but I don't regret reading this one and, if you decide to read it, I can assure that you won't hate. You may find that it lacked here and there or that some things didn't work for you, but I really don't think that this is a bad book.