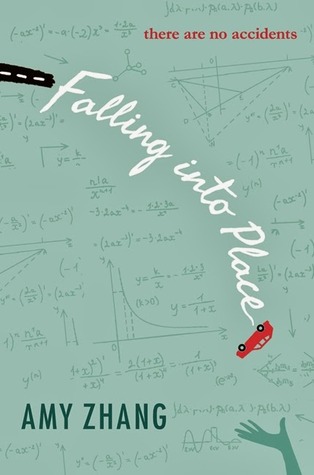 Falling into Place by Amy Zhang
My rating: 3 of 5 stars
Received: borrowed
Publication Date: September 9th, 2014
Publisher: Greenwillow Books
POV: 1st (but mostly 3rd person)
Pacing: slow
Genres & Themes: YA, Contemporary, Friendship, Bullying, Mental Illness, Love, Death.
BLURB:
On the day Liz Emerson tries to die, they had reviewed Newton's laws of motion in physics class. Then, after school, she put them into practice by running her Mercedes off the road.
Why? Why did Liz Emerson decide that the world would be better off without her? Why did she give up? Vividly told by an unexpected and surprising narrator, this heartbreaking and nonlinear novel pieces together the short and devastating life of Meridian High's most popular junior girl. Mass, acceleration, momentum, force—Liz didn't understand it in physics, and even as her Mercedes hurtles toward the tree, she doesn't understand it now. How do we impact one another? How do our actions reverberate? What does it mean to be a friend? To love someone? To be a daughter? Or a mother? Is life truly more than cause and effect? Amy Zhang's haunting and universal story will appeal to fans of Lauren Oliver, Gayle Forman, and Jay Asher.
REVIEW:
Liz Emerson committed suicide. But made it look like an accident.
Who would think the Liz Emerson who has it all (popularity, boyfriend, money, friends, …) would crash her own car?
No one does. No one suspects how unhappy she really was. How conscious she became of all the bad things she did in her life, to people who did not deserve it.
She did not realize that the equal and opposite reaction was this: every terrible, horrible bitchy thing Liz had ever done had bounced back to her.
Because she was a bad person.
But, wait, things didn't go as planned; she didn't die but went in a coma instead. Now, it is up to her to decide if she wants to stay alive or not.
Reminds you of If I Stay? It does but it is not the same thing. Sure, there are memories narrated about her life and what made her take this decision, but this is not a love story.
I really enjoyed reading this book, even though it contains so many clichés. There are everywhere! But, surprisingly, I did not mind it as much as I usually would. Must be because it was very realistic, in a way, even though it is a fictive story.
The writing was beautiful and I loved the author's style. The atmosphere reminded me of the one in the We Were Liars book, because of how unearthly it felt. While I did not enjoy it in We Were Liars, in this one I did. Which is interesting.
The character of Liz Emerson is hard to empathize with, and I actually did not. At first, yes, but when I saw how badly she hurt people or didn't intervene when she obviously had the possibility to, it kind of made me angry. In a way. Because I don't have much respect for bullies.
I didn't appreciate not knowing who the narrator was before the end of the book. I tried to guess but there were so many possibilities. When I learned the truth, I was not impressed.
The last thing I didn't enjoy very much about this story was how almost every character seemed to have a 'problem.' Maybe it's drug dealing. Maybe it's lack of love or losing a child but they (almost) all had something on their mind. Something sad. This book is sure filled with sad feelings and wouldn't work for everyone.
Still, I would recommend it to anyone thinking this is a story they might enjoy or find interesting. I am absolutely not regretting reading this.
My review on Goodreads.