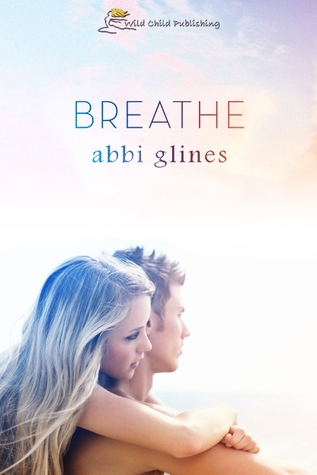 Breathe by Abbi Glines
My rating: 2 of 5 stars
Received: borrowed
Publication Date: May 16th 2011
Publisher: Wild Child Publishing
POV: 1st person & female
Pacing: fast
Genres & Themes: YA, Contemporary, Romance, Friendship, Family, Music, Celebrity.
BLURB:
Sadie White's summer job isn't going to be on the beach life-guarding or working at rental booths like most kids her age. With her single mother's increasing pregnancy and refusal to work, Sadie has to take over her mother's job as a domestic servant for one of the wealthy summer families on a nearby island.
When the family arrives at their summer getaway, Sadie is surprised to learn that the owner of the house is Jax Stone, one of the hottest teen rockers in the world. If Sadie hadn't spent her life raising her mother and taking care of the house she might have been normal enough to be excited about working for a rock star.
Even though Sadie isn't impressed by Jax's fame, he is drawn to her. Everything about Sadie fascinates Jax but he fights his attraction. Relationships never work in his world and as badly as he wants Sadie, he believes she deserves more. By the end of the summer, Jax discovers he can't breathe without Sadie.
REVIEW:
Number of times I rolled my eyes: 20
Number of times I was taken by surprise: 1
Number of times I thought about DNFing: 1
This was the cheesiest book I've read this year. I may not have chosen the right story as first one read by this author of whom I only heard positive things. Don't think I hated it, because I didn't, but it definitely was a book I could have skipped.
The love-triangle took me by surprise. I did not expect it and was sure that it was going to be very simple as in Sadie meets Jax (Rock Star) but, no, she meets someone else first. Marcus, though, is only a friend for her but he doesn't have the same opinion on Sadie. It wasn't bad because the fact that the main character wasn't in love with both guys was a good thing and kept me from hating the love-triangle.
Sadie…I was sure I was going to love her. You know; hard worker, nice, responsible, caring and mature but it's like her love for Jax actually made her weak. I did not recognize, by the end of the story, the same girl I met in the first chapters. I know love can change a person…but I'm not sure if in this case it was for the best, unfortunately.
Plus, hey, Rock Star + high school student, could that really work out? As much as they may love each other, I'm still sceptic.
I enjoyed the fact that it was short for the cheesiness was too much for me to be able to read this kind of book if it had 300 pages or so. I also appreciated the fact-pacing and secondary characters, even though they weren't present as much as I would have like, this story being centered on the romance and all.
What I really thought was off was the fact that Sadie called her mother ''Jessica.'' I can understand that she doesn't like her very much since her mother is not your average kind and actually makes Sadie work and leaves her pay the bills and help at home instead of doing it herself but I just…think it's very rude to call her mother by her name, even if it's not in front of her.
The writing was okay, not what I expected by this author of whom I was told is an incredible contemporary romance writer but not bad either. I'm going to give her another chance by reading, some time soon, her Rosemary Beach series but I absolutely will have my expectations at a lower level this time.
Not recommended but, if you don't have anything else to read, sure. This can make a fast and cute—but very cheesy—summer read.
Review on Goodreads.