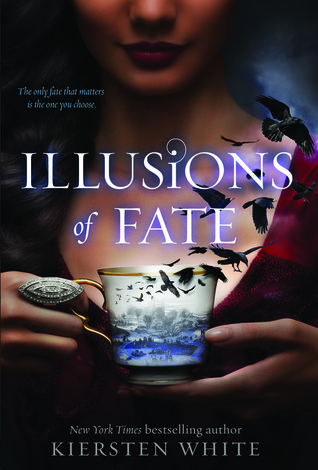 Illusions of Fate by Kiersten White
My rating: 1 of 5 stars
Received: borrowed
Publication Date: September 9th 2014
Publisher: HarperTeen
POV: 1st person & female
Pacing: fast
Genres & Themes: YA, Fantasy, Magic, Romance, Friendship.
BLURB:
"I did my best to keep you from crossing paths with this world. And I shall do my best to protect you now that you have."
Jessamin has been an outcast since she moved from her island home of Melei to the dreary country of Albion. Everything changes when she meets Finn, a gorgeous, enigmatic young lord who introduces her to the secret world of Albion's nobility, a world that has everything Jessamin doesn't—power, money, status…and magic. But Finn has secrets of his own, dangerous secrets that the vicious Lord Downpike will do anything to possess. Unless Jessamin, armed only with her wits and her determination, can stop him.
REVIEW:
DNFed at 53%
Advice: Don't let the beautiful cover fool you.
I just didn't find any reason to keep reading this book. The plot…it didn't even feel like there was one determined. Poor to no intrigue and silly useless conversations that felt like fillers more than anything else are way too present in this story.
The main character, Jessamin, is in her teenage years but acts like an eleven-year-old one.
It.Was.Annoying. She was annoying.
Some parts of the story felt very absurd (my logical mind and absurdity don't work well together) and that's mostly due to, like I said, dialogs that didn't feel important at all and just random. Sometimes Jessamin asks questions out of the blue or characters are talking about hair, dresses when, duh, there's a guy that kidnapped Jessamin and that's one subject that should have been more popular.
The writing wasn't bad but it was not my cup of tea. Probably more because of the annoying elements that are filling the book than the style itself though. In my opinion, when you're not enjoying a story or characters, then you can't truly concentrate on the writing and determine if it is good or not. Sometimes it is obvious though. Like I said, not bad but what the author wrote about definitely did not impress nor captivate me.
I wish the secondary characters were better…but they're not. There was a lack of characterization and character development and, plus, there were way too many of them. Often, there are some characters presented only to never appear again (well I may be a little biased since I didn't finish the book but…)
I didn't even register their names. (What would have been the point, anyway?)
There is some sort of magic but it wasn't developed at all. Really, I don't know why this book has been published; it just lacks! And I don't mean to be rude but…sincerely, I just think that it could have been much better if the author worked more with making the character likeable and relatable and the plot more interesting and following, not a certain plan necessarily, but more like a certain intrigue that will keep us wondering and steal our attention. Although, it is my personal opinion.
There is one thing that I liked though: the pacing. It was fast and I believe I could've read this book till the end if I really wanted, but I truly found no point since it's one of those kind of reads that are forgettable anyway.
I wish I could recommend you this book with its gorgeous cover but I really don't want you to lose your time. This way you'll have more time to read…Trial by Fire, perhaps? *winks*
My review on Goodreads.