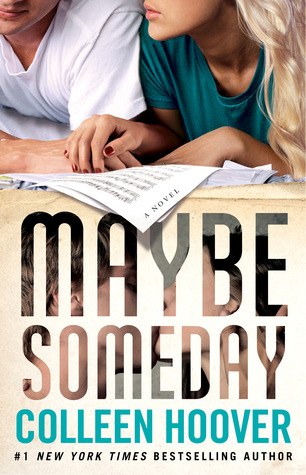 Maybe Someday by Colleen Hoover
My rating: 3 of 5 stars
Received: bought
Publication Date: March 18th 2014
Publisher: Atria Books
Pacing: good
POV: 1st person & alternative–female and masculine
Genres & Themes: New Adult, Contemporary, Romance, Music.
BLURB:
At twenty-two years old, aspiring musician Sydney Blake has a great life: She's in college, working a steady job, in love with her wonderful boyfriend, Hunter, and rooming with her good friend, Tori. But everything changes when she discovers Hunter cheating on her with Tori—and she is left trying to decide what to do next.
Sydney becomes captivated by her mysterious neighbor, Ridge Lawson. She can't take her eyes off him or stop listening to the daily guitar playing he does out on his balcony. She can feel the harmony and vibrations in his music. And there's something about Sydney that Ridge can't ignore, either: He seems to have finally found his muse. When their inevitable encounter happens, they soon find themselves needing each other in more ways than one…
REVIEW:
Sydney did go through all of these emotional states because of Ridge.
I'm not saying that it's a bad thing…but there sure was a lot of drama in this story. I didn't see much of the exterior world or even the music industry. It almost felt like Ridge being apart of a music group was not even the reality since not much actually proved it, except for him playing guitar, writing songs and sharing some related info with his brother who was in of the group as well..
Ridge is a good guy, really. He's loving, caring, thoughtful…but also acting in a contradictory way now and then which is not necessarily a problem but the moments he chose to act that way were infuriating.
Basically, I did not like the love-triangle, and that's not because I don't like love-triangles in general. No. I found this one heartbreaking and not in the good sense. Also, I didn't appreciate how the author made us love Maggie (Ridge's girlfriend) and make us see how they both care for each other, especially Ridge, when we all know that having Sydney coming into his life (after her boyfriend cheated on her and needed a place to stay) was not going to do good in that relationship.
I can't deny that Sydney and Ridge have a beautiful chemistry because they do have one. A wonderful wonderful one. But so do Ridge and Maggie. Putting the love-triangle element aside, I must admit that the romance was cute and adorable. Plus, very realistic. I really felt how much Sydney and Ridge care for each other and that what they have is rare. Still, I was always a little unsure of if I should really agree with them connecting so much since it felt unfair to Maggie.
The writing was very pretty and a little more fast-paced than Hopeless which was very slow, even though I did like it better. Though, I'm not going to compare Maybe Someday to Hopeless since that would be crazy; they're both such different stories!
There weren't many side characters really present in the plot and I, to be honest, wanted to meet Sydney's parents because she mentioned them two or three times and I was curious to witness what kind of relationship they really share and see how they interact with one another.
I loved the song lyrics.
They're different from song lyrics I listen to normally. And the fact Sydney has such a natural talent in writing them was incredible. She was born with this gift.
I do recommend it for readers who look for a romance-filled New Adult story, an emotional one and for those who think that this kind of love-triangle won't bother them at all.
My review on Goodreads.